Book Author ::
Michael Livingston
Review
The Shards of Heaven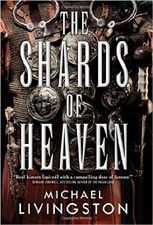 Cleopatra and Antony rule Egypt via Alexandria. Octavian rules Rome. THE SHARDS OF HEAVEN follows the real people and events that lead to the Roman conquest of Alexandria and the end of the Ptolemic line.  But according to Michael Livingston, there's more to the story.
And it involves magic.
Enter Juba, the orphaned prince of Numidia and adopted son of Julius Ceasar. Desperate to find vengeance for the death of his father, he seeks magical objects so he can have enough power to bring down Rome. At the start of SHARDS he finds what he believes to be the trident of Poseidon and discovers it's as powerful as he hoped. But Juba is a mere teenager to Octavian's experienced ambition and soon discovers he's in over his head.
Read the rest of this review »