Book Author ::
Juliet Marillier
Review
Tower of Thorns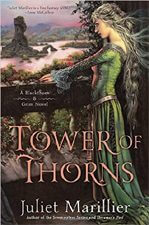 You got to know Blackthorn and Grim in the first novel, DREAMER'S POOL (EBR review), and now their story continues in TOWER OF THORNS, starting not much later than where it left off in the first book. From the cover:
"Disillusioned healer Blackthorn and her companion, Grim, have settled in Dalriada to wait out the seven years of Blackthorn's bond to her fey mentor, hoping to avoid any dire challenges. But trouble has a way of seeking out Blackthorn and Grim. Lady Geiléis, a noblewoman from the northern border, has asked for the prince of Dalriada's help in expelling a howling creature from an old tower on her land—one surrounded by an impenetrable hedge of thorns. Casting a blight over the entire district, and impossible to drive out by ordinary means, it threatens both the safety and the sanity of all who live nearby. With no ready solutions to offer, the prince consults Blackthorn and Grim."
Read the rest of this review »
Review
Dreamer's Pool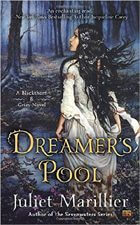 From the cover: "In exchange for help escaping her long and wrongful imprisonment, embittered magical healer Blackthorn has vowed to set aside her bid for vengeance against the man who destroyed all that she once held dear. Followed by a former prison mate, a silent hulk of a man named Grim, she travels north to Dalriada. There she'll live on the fringe of a mysterious forest, duty bound for seven years to assist anyone who asks for her help.
"Oran, crown prince of Dalriada, has waited anxiously for the arrival of his future bride, Lady Flidais. He knows her only from a portrait and sweetly poetic correspondence that have convince him Flidais is his destined true love. But Oran discovers letters can lie. For although his intended exactly resembles her portrait, her brutality upon arrival proves she is nothing like the sensitive woman of the letters."
Read the rest of this review »