Review: Machine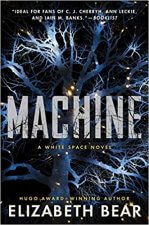 Amazon
Bookshop
Seriously, how does Elizabeth Bear come up with such mind-blowing, thought-provoking stuff on the regular? There's RANGE OF GHOSTS (EBR Review), there's THE STONE IN THE SKULL (EBR Review), there's KAREN MEMORY (EBR Review)–all of which are very different, yet all crazy weird and engaging and fun to read.
Bear does it again with THE MACHINE, only this time it's science fiction with a dose of medicine. (Even if you didn't read the linked but not necessarily series ANCESTRAL NIGHT you'll get caught up relatively quickly).

Core General is an enormous hospital in space out of which Dr. Llyn Jens works as an EMT. We open with her out on assignment with her ship and crew when they're called to find survivors of a century ship "Big Rock Candy Mountain" taking settlers to far-flung planets–only it's been stuck in space so long that time has caught up with it. What they find is very unexpected, and unleashes a mystery that turns out to be more far-reaching than Llyn would ever have guessed.
The big star of this show is Core Central, the hospital in space where a Star Trek version of utopia is on its way to reality. But it's still experiencing its share of hiccups. And when Llyn and her crew return to show what they've discovered on "Big Rock Candy Mountain", everything blows up and shows a dark side to Core Central that makes Llyn question her career path. Core Central is populated with a cast of great variety: ship computers, sentient trees, insectoid security, and everything else Ms. Bear could think of that might be out there in space. As Llyn moves around Core Central dealing with problems and unraveling its mystery, we begin to see a bigger picture that could have serious repercussions.
Well written, well wrought, but sometimes heavy handed, MACHINE showcases Elizabether Bear's strengths and a utopia's possible weaknesses.
MACHINE starts out strong and then takes its time as it moves through the different revelations, as Llyn works through her own physical limitations, deals with old-fashioned notions, and works through real life-threatening situations not just for her but for the ship. I wanted to like her more than I did, but Bear made her complicated (not a bad thing) but in a story that felt like Core Central was more the central character, Llyn added baggage that slowed down the story.
In MACHINE the author explores themes of faith, morality, and making decisions based on those two concepts. She can be heavy-handed on the faith-related discussions, however, as well as on the atavistic (relating to or characterized by reversion to something ancient or ancestral) and sophipathological (Bear's own word, having to do with social pathologies, how it affects a person, and how a person responds) aspects of the characters populating the story. Seemed pretty judgey to me, which is the opposite point she was probably trying to make. Still, it was an interesting exploration into the mind of a future that our planet might be headed for–whether or not it's the kind of future you'd like to live in.
Recommended Age:

13+

Language:

A handful of the harsher stuff

Violence:

A moderate amount, but not gorey

Sex:

None