Giveaway: The Girl and the Stars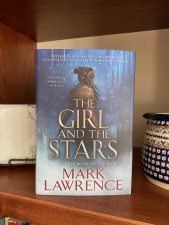 ***THIS GIVEAWAY IS CLOSED. Updated May 4: The winner of a hardback copy of THE GIRL AND THE STARS is Alya from Alpharetta, GA. Congrats! Your book will be on its way soon.***
The publisher of THE GIRL AND THE STARS has sent EBR a lovely, hardbound copy of the first book in Mark Lawrence's Book of the Ice series, and we'd like to give it to you.
To enter this giveaway:

1. Email us at elitistbookreviews@gmail.com
2. Include the following on the subject line: THE GIRL AND THE STARS
3. In the body of the email include your name and mailing address. This giveaway is only available to U.S. addresses.
Giveaway rules can be found here. Entries will be accepted until midnight of April 30th MDT and the winner will be posted on May 1st. Good luck!
Read Dan's review here.