Review: Empress of Forever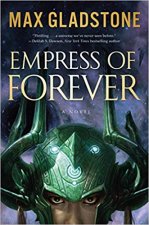 Amazon
Bookshop
Viv is a powerhouse of a woman. Entrepreneur. Uber computer programmer. Rich. Powerful. But lonely. In the opening pages of EMPRESS OF FOREVER, Viv finds herself being pursued by people who would stop her from using her genius and influence to change their hold over the world economy. And in the process of using her hacking skills to stop said evil ones she is plucked away from the earth by a green goddess and transferred to another galaxy.
Not exactly the results she was expecting.

The green goddess known in these parts as the Empress disappears as soon as they arrive and Viv is dropped into a universe of unknowns. Everyone is alien. People are connected via the Cloud–except for her, it seems, they consider Viv soulless. There's a strange religious faith that's studying the Empress and how she does the goddess-like things she does, such as wiping out entire civilizations (for what she considers good reason). What are the Empress's motives? Why would someone so all-powerful bring Viv into a universe where she would be useless?
That mystery hangs over her head as Viv spends her time trying to get back to her home Earth. But in the process learns that she's been making a family in this new galaxy all along. There's Zanj, the pirate queen who is more fearsome than any earthling ninja; the monk Hong whose loyalty to the faith decides that studying the woman the Empress choose to bring across galaxies would perhaps reveal Her will; Xiara the survivor of a former great civilization who reminds Viv what a real relationship ought to be; and Grey, whose child-like understanding of the universe relies on Viv for moral direction. Who will she choose? Her new family or her loved ones back on Earth? What does Viv really want?
Max Gladstone introduces use to the glorious weirdness of a universe whose trajectory can only be changed by a human woman in EMPRESS OF FOREVER.
But the rub is that those might not be the right questions to ask.
In his other books, Max Gladstone introduced us to a magical world of lawyer-magicians, but here he ups the ante as he has Viv and her pals sail across galaxies, jump from ship to ship and planet to planet. He creates one strange scene to the next–like Star Trek on steroids–in all the glorious weirdness of his imagination about what's possible in far-flung galaxies. And he unfolds it all in a matter-of-fact way that doesn't make it any less believable. Gladstone's storytelling continues to amaze; the pacing, characterization, and worldbuilding are all well done. And it's the book's themes of friendship that builds the story into the answer of what it really means to belong to a family.
Viv spends the book pushing ahead in her single-minded goal only to learn some painful and powerful truths about herself. And when I say painful, I mean so devastating it changes the trajectory of the book and what at first seems to be the point of the novel builds to a higher level of awesome.
Recommended Age:

13+

Language:

A few of the harsher stuff

Violence:

Plenty but nothing particulary gory or grim

Sex:

An F/F sexual relationship with a few details