Giveaway: The Princess Beard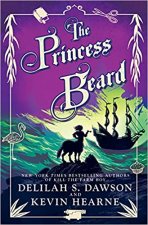 ***Update 10-3-19: The winner of the giveaway is Chris S from Eden, New York. Congrats! Your book will be on its way soon.*** The publisher of THE PRINCESS BEARD has sent EBR a lovely, hardbound copy of the third book in Kevin Hearn's and Deliliah S. Dawson's hilarious series. You don't have to have read the first two books to enjoy this one.
To enter this giveaway:

1. Email us at elitistbookreviews@gmail.com
2. Include the following on the subject line: THE PRINCESS BEARD
3. In the body of the email include your name and mailing address. This giveaway is only available to U.S. addresses.
Giveaway rules can be found here. Entries will be accepted until midnight of October 2nd and the winner will be posted on October 3rd. Good luck!