Happy Birthday to Us!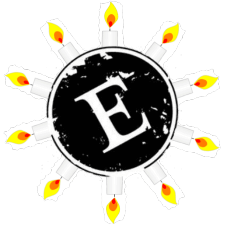 Yes, it seems a little funny to us too. Ten years? Yeah, right! But no, it's the truth. You can even see the proof of it right here:

I AM NOT A SERIAL KILLER (EBR Review)
Ten years ago today, we published that review, and we haven't looked back since. We've come a long ways since those days. Back on the Blogger platform, when it was just Steve and Nick regaling us with their wit and charm. Vanessa and Dan and Shawn jumped onto the team pretty quickly (before our first birthday) because of how quickly the original dynamic duo were inundated with upcoming books and requests for reviews. There have been lots of changes since then with regard to the team and the site. But we've still got requests for reviews coming out our ears!
It makes us feel a little odd and a mighty bit proud to have been part of something like this for as long as it's been around. We've built it from the ground up, and the fact that it's not only still standing but actually still going strong is pretty awesome indeed. That doesn't always happen. Especially with gigs like ours, where everyone does this without any kind of monetary compensation. From the get-go, we decided that we weren't in for ads. We felt like they just got in the way of the stuff that really mattered: the reviews.
We don't usually make a big stink about our birthday when it rolls around each year, but this one felt a little different. You know? In that time, we've been able to put together over 900 unique book reviews. 900. Yeesh. That just seems like a daunting number, looking at it from this end. Not too much longer and we're going to be standing on a foundation of a cool 1k. Yeah. It's kind of blowing our minds. Doesn't seem that long ago. Those early days of EBR.
Anyhow, we're not here to carry on or bore you. Just to throw a little confetti and toot a horn and celebrate the good stuff for a bit. We've also been meaning to get another giveaway put together for a while now, and what better opportunity to give out some books than our birthday. 🙂 So, watch for that to show up in the coming weeks.
Until then, raise a book and read another one for us.