Review: Wrath of Empire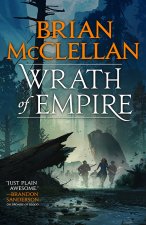 Amazon
Here's another one of those late reviews that totally should have been up last year, but that I just didn't make it to. On the whole I've kind of been a late-comer to the Powder Mage world. What I found in this series was fun, and interesting, and engaging to say the least. Was hoping to find more of the same, when diving into this one. Especially after mentioning that we expected goodness from the short list of missed reviews in 2018 and being so disappointed in the first one of those books that I got to.
Thankfully, I found that this book was just as good as I had expected.

WRATH OF EMPIRE (Amazon) is the second book in the Gods of Blood and Powder series by author, Brian McClellan. The first book in the series, SINS OF EMPIRE (EBR Review) was the first of McClellan's that I've read, and I enjoyed it so much that I immediately bought the entire first series. This book picks up relatively quickly after the close of SINS, and there's a lot of overlap in the character map after everyone in SINS met up in the city of Landfall. However, they quickly fall apart again, as the three principle characters go their separate ways.
Vlora Flint, Ben Styke, and Michel Bravis are the main POVs in this book, just like in the previous. After reading the first, there was a part of me that was hoping we'd get a replacement for Michel. If you'll remember my comments from the review on SINS, Michel wasn't exactly my most favorite character. For me, neither his character nor his story were very interesting in that one. And while his character doesn't change much in this continuation, the story that he is embroiled in during WRATH is much more interesting. For Michel is tasked by Taniel Two-Shot to stay put in the city of Landfall after the invasion of the Dynize army and find a Dynize point of contact named Mara that has been feeding Taniel information. During this time we learn a lot about the Dynize and how they work, and Michel's efforts to find Mara take him through strength, weakness, trust, and betrayal as well.
Vlora, however, has left the city, trying to herd a massive group of refugees away from the Dynize army. She has a small problem though, as both the Dynize and the leadership of those she's been hired to fight for have decided that she needs to take a long walk off a short pier. Beneath her command, Ben Styke handles the control of the Mad Lancers. But Ben too has had a hit put out on his head by someone very high up in the Dynize hierarchy. For it seems that having killed a dragonman carries more consequences than it does benefits.
More magic, warfare, and scheming in the world of Powder Mages. WRATH picks up where SINS left off and runs headlong toward a dangerous conclusion.
Despite the fact that Taniel Two-Shot is no longer a main character of the series, he's still playing a very vital role to the story at large. He's the one that governs Michel's efforts in the city of Landfall, and he later shows up to direct Vlora in the focus of her military efforts, and even has an indirect hand in the movements of Ben Styke as he sends Ka-poel, his wife, to lead him in the "right" direction. I'm still kind of on-the-fence as to what I think about this point. On the one hand, it makes the characters feel somewhat less important, for if Taniel is just pulling everyone's strings, then why does it matter whose strings he's pulling? On the other hand, he's not much of a micro-manager and tends to sit in the background after pointing people where he wants them to go.
McClellan does a great job of widening the arc of his world-building with respect to the Dynize peoples, and he makes a few connections that I didn't see coming. The characterization I enjoyed the best came from Styke. There's some of getting older and some of becoming a quasi "father" to the young girl, Celine, that he picked up in SINS. However, in general, I think that all three characters could have done with a good bit more on the characterization side of things. In general, the plot moves along pretty quickly, and kept me interested in "what" was happening even though I really didn't get a good sense of "who" it was happening to.
This became especially important toward the end, as both Ben and Vlora made some choices that really felt unjustified. I didn't understand at all why they were doing the things that they were doing. If anything, the minimal amount of characterization has been the weakest point of all of the Powder Mage novels that I've read. The world-building is great, the plotting is well structured, and the pacing keeps me interested and guessing to the point that I'm able to handle the fact that it's not a very character-deep story. I found that my opinion of SINS was very similar to that of WRATH. Only in this case, the difficult ending left me pulling my rating down into a Like instead of the Love that I pushed up into for SINS.
On the whole, WRATH is very consistent in what it delivers. I think fans of the Powder Mage series will, in the main, find that they like this one… but possibly not quite as much as previous novels. The ending just didn't do it for me. Maybe you'll think different. If so, lemme know. I'd be interested in knowing how people found this one to be.
Recommended Age:

16+

Language:

No f-bombs, but a moderately high amount of everything else

Violence:

When the battle scenes come it, it can get pretty... dicey

Sex:

Some obviously ignored situational and relational references