Sakura: Intellectual Property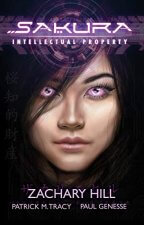 We like good causes here. Especially when they involve books and authors. One of those I distinctly remember was the Unfettered anthology (Amazon) from Shawn Speakman. Looks like the third one of those is about to get released. Well, this is another one of those type of books.

Sakura (Amazon) was written by a guy named Zach Hill. I met him once a handful of years ago at the LTUE science fiction and fantasy writers conference in Utah. He was a friend of a friend and seemed like a really cool guy. It wasn't much later that I heard that he'd had a pulmonary embolism and passed away. Thing just came out of left field. Guy was pretty young. Left behind a wife of less than a year.
A few weeks before he passed, he finished the first draft of a new book, called Sakura. As with most first drafts, that one was pretty rough. After the impact of his death had had time to settle, a couple of author friends decided that they wanted to see that story polished and published. Zach's opinion was that it had been the best story he'd ever written. So, with the help and support of Zach's family and lots of other remarkable individuals, those two author friends, Paul Genesse (Amazon) and Patrick Tracy, took that first draft and saw it all the way to publication.
The single condition that everyone has stuck to along the way has been that everyone that worked on the book did so completely as a volunteer effort. As such, all proceeds from the sale of the book are going to go to Zach's wife.
Now, I know that the world is full of sad stories. It seems like every other hour almost that we're learning something new about someone else that has felt the rough side of fate's wicked blade. Thing of it is though, this has a close connection to an author and a book and some of the Elitists here at EBR.
As it happens, one of our favorite authors, Larry Correia (EBR Archive), was a good friend of Zach's and he's doing what he likes to call a "book bomb", and it launched a few hours ago (You can read the post on his website here). What he does is ask all of his peoples (and he has a lot of peoples) to go out and buy a specific book on Amazon within a short period of time. When Amazon sees all of those sales packed so close together, that book gets a bump in its search value on Amazon, and thus more people will have the opportunity of seeing it. It's one of the ways that Larry has of giving a book/author a boost when he thinks they could use it. And Zach's book qualified.
Larry's also given the book a big thumbs up on the goodness meter. So, if you're a fan of any of his stuff, it's likely that you'll enjoy Sakura as well. Plus, it's all for a great cause. Something to feel good about.
So, if you're up for it, awesome. If not, that's fine too. Just wanted to make sure that our followers here at EBR knew about it, and that if they decided to take the plunge, that we could add as much as possible to Larry's effort at the same time.
Later all.