Giveaway: Magic of Recluce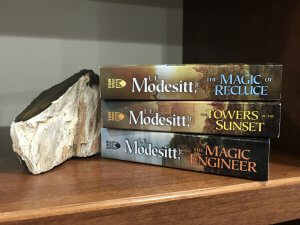 ***Updated 1/25/18: The winner of this giveaway is Anthon of Vineyard, Utah. Your books will be on their way, soon. Congrats! And thanks to everyone who entered. ***
In honor of the 20th anniversary of L.E. Modesitt's The Magic of Recluce series, the publishers are reprinting the books with new, beautiful paperback cover art. If you aren't familiar with the series, here's your chance to pick it up where it all began, because one lucky EBR reader will receive a set of the first three books in the series.
To enter this giveaway…

1. Email us at elitistbookreviews@gmail.com
2. Include the following on the subject line: MAGIC OF RECLUCE
3. In the body of the email include your name and mailing address. This giveaway is only available to U.S. addresses.
Giveaway rules can be found here. Entries will be accepted until midnight of January 24th and the winner will be posted on January 25th. Good luck!