Review: The Spellbook of Katrina Van Tassel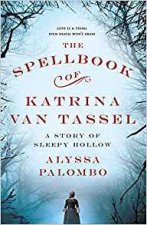 Amazon
If you've never read the original Washington Irving short "The Legend of Sleepy Hollow," you should (it's easy to find a free version online…but be sure to have a dictionary on hand, it's not necessarily an easy read). You've probably seen the silly Disney cartoon, but the original story has an ambiance and mystery about it that is enhanced by its brevity and style. Alyssa Palombo attempts to re-tell this American classic in her recent THE SPELLBOOK OF KATRINA VAN TASSEL, while retaining the setting details and characters, but giving it a modern twist.
You probably know the story already: Ichabod Crane is the new schoolteacher in Sleepy Hollow, and he's got his eye on the lovely heiress Katrina. But we learn he's got a superstitious streak and believes the local tale of the Headless Horseman. On All Hallow's Eve, Ichabod disappears and it's speculated that he has run into the ghostly Hessian and met a grisly fate. Palombo takes these basic details and fleshes them out.
Told from Katrina's PoV, she sounds just how you'd think she would: a little spoiled as the only daughter of a rich landowner. But here we learn more about her (Palombo takes a somewhat feminist angle), how she's well educated, clever, high spirited, and loyal to her friend. When the handsome Ichabod comes to town, Katrina is immediately attracted to him–he is educated and refined, unlike the brusque and macho Brom who considers marriage to her as inevitable. Despite the lack of Ichabod's prospects as marriage material, she encourages his advances in secret and their romance blossoms. It's easy to see why Katrina likes Ichabod, their romance is believable (mostly), and she justifies her culturally inappropriate behavior admirably.
But if you've read the original story, you know how it ends…or do you?
Palombo takes many liberties as she fills in the details about the mysterious disappearance of Ichabod from Sleepy Hollow. I don't want to spoil the story for you because it's those details that will keep you reading THE SPELLBOOK OF KATRINA VAN TASSEL, since the plotline is pretty predictable. She shows us what life was like in the early days of rural New York (George Washington was president) and how the heiress of a respectable landowner would live. But here Palombo adds magic, romance, and mystery to weave a story of tragedy and witchcraft.
While Palombo's story makes sense in the context of the re-telling, how she tells it has a few problems. I think she tries to mimic some of Irving's style, but she tries too hard. The dialogue is tedious to read, especially all the unnecessary interactions that add fluff and don't propel the story forward (how many times do we need to see the dialogue of Katrina telling her mother she's visiting her friend's house?). There's so much repetitious dialogue and exposition that I skimmed entire pages in order to get to the meat of the story. The novel could have easily been cut by a quarter of the page count.
Ichabod Crane is the handsome schoolteacher that catches Katrine's eye in THE SPELLBOOK OF KATRINA VAN TASSEL. You may already be familiar with the original
The magic (as hinted at in the title) is nothing fancy. Katrina's best friend Charlotte is the daughter of the local midwife and trained with herbs, but also has visions of the future. But then we learn that Katrina has a latent visionary ability, as well (really? what are the odds? and no this isn't a spoiler, why else with the title?), and she uses this ability in a way that feels contrived when the story could have used other more believable methods.
This is the kind of novel for the woman who likes a literary romance…with a little magic thrown in and some booty time. Sure there are a few horror/supernatural elements, but they aren't the focus of the novel, in that they're there to help tell the story and aren't fleshed out beyond that. Overall it's a fun read that takes you to another time and place, with a believable main character, but in order to enjoy it try not to get caught up on its issues.
Recommended Age:

17+

Language:

None

Violence:

Minor details of a death

Sex:

Several detailed scenes (romance novel worthy)