Giveaway: The Witchlands Books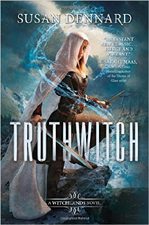 ***Update 11/6/18 this giveaway is closed. The winner is Gregory from PA. Tor will be sending you your winnings shortly. Congrats!***
In honor of WINDWITCH just coming out in paperback and BLOODWITCH being released in February, Tor Teen has partnered with EBR to provide a copy of TRUTHWITCH, WINDWITCH and the prequel novel SIGHTWITCH all by Susan Dennard to give away to a lucky reader. If you're curious about this series and want to start at the beginning (or even want a little something to give your teen daughter at Christmas) this is your chance!
To enter this giveaway:
1. Email us at elitistbookreviews@gmail.com
2. Include the following on the subject line: TRUTHWITCH GIVEAWAY
3. In the body of the email include your name and mailing address. This giveaway is only available to U.S. addresses.
Giveaway rules can be found here. Entries will be accepted until midnight of November 5th and the winner will be posted on November 6th. Good luck!