Review: Purple and Black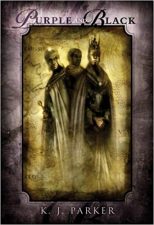 Amazon
So I'm in the middle of updating all of our old reviews and disentangling the hard-coded links to the old blog. Not particularly a lot of fun. But it has been cool to be reminded of all those old reviews, and see how far the site has come since the early days. While doing so, I realized something that really bothered me: we didn't have a review up for this book.
And I just couldn't let that pass.

PURPLE AND BLACK (Amazon) is written by K.J. Parker, and is, hands down, my favorite piece of his writing to date. It is one of the most intimate portrayals of friendship and sacrifice and loss that I have had the pleasure of reading, and I find myself re-reading this short novella every year or so. The original, published by Subterranean Press, was a Trade Edition hard-back and sold for $25. These days, Amazon says that a used copy will run you about $30. My opinion? Worth every penny. In fact, if I had lost my copy, I might even find myself leaning toward buying one of the 3 new copies that are listed as being out there for $50 on Amazon right now. For me, it's just that good.
Purple and Black are two colors of ink, used in written conversation between Nicephorous V, emperor of the Vesani, and Phormio, governor of Tremesis. Phormio has just arrived at his new post, Tremesis: a region of the empire far removed from anything and everything. These two inks are used for official missives (Purple) and unofficial missives (Black), and the color is actually displayed in the text of the printed book. The differences between these two kinds of conversation are incredibly well used between these two men. Once school mates at university, these two and several other of their friends, learned the rudimentary basics of history and government and power, all viewed through the pomposity and idealism of youth.
In Purple ink comes the formal and the flowery. This is, after all, Phormio's emperor, and veritable son of the empire's singular deity.
Parker's character-driven story is told through correspondence between former school mates: an emperor and a newly-assigned governor that have much to learn
In Black, comes the familiar and the base. Because this is also, after all, Phormio's buddy and pal and confidant in matters both large and small.
Parker is interested in nothing, if not character. It is this point that has so closely bound me to his work. This is one of his best. It's brilliant in every way, shape, and form.
And I just couldn't, in good conscience, allow the book review site that I write for, to not have a review for it.
Cheers.
Recommended Age:

14+

Language:

PG-worthy

Violence:

Referenced

Sex:

None