Review: Carbide Tipped Pens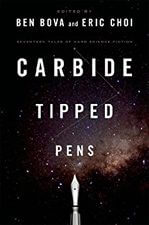 Amazon
Hard Science Fiction, huh? Sounds cerebral, nerdy, probably unsentimental, maybe a bit dry… but could be good. Or really boring. I have had good fortune reading and reviewing anthologies so far for EBR. (Let the streak continue!)
My sincerest apologies to the publishers of this mostly excellent anthology. This is possibly the most beat-up paperback I have ever carried around and carried around and…which I cannot explain because I enjoyed it very much. There was one story that stopped me cold, though so, in good conscience, I could not write this review until I had read every SINGLE word. That wasn't easy.

This book is still available and if you dig short stories like I do, if you enjoy imaginative technical musings, well, get it! Read on for suggestions concerning which ones to skip, maybe, and which ones not to miss. Two of the stories will be loved by some, hated by others. There are several not-to-miss tales here that will be universally appealing. The best thing is that these selections are fairly consistent in content and quality. They really go together, in other words, and that is not always the case in anthologies.
"The Blue Afternoon That Lasted Forever" by Daniel H. Wilson sets an unusual, surprising tone. It is stark and jarring, but with plenty of emotional impact. Even sweetness. Beautifully written, the perfect length; almost Poe-like. Love. I am encouraged.
"A Slow Unfurling of Truth" by Aliette de Bodard, is good, not great. Overlong but nicely written. Like.
"Thunderwell" by Doug Beeson, is universally appealing, interesting all the way, has great suspense and peril, nice pacing, lots of techno-talk, but is relate-able. Space ships and danger! Yeah! Love.
"The Circle" by Liu Cixin took much too long to get going, but ended well. Bleak but satisfying. Meh.
"Old Timer's Game" by Ben Bova is best enjoyed by baseball enthusiasts. I am not one and prefer almost any other sport, but will give it a general like. Some of you will get a whole lot more out of this bite-sized gem. Impressions will vary.
"The Snows of Yesterday" by Jean-Louis Trudel is one I would have skipped after reading the prologue. If you believe that climate change and environmental concerns are the most important issues in this dangerously imperiled world, you will eat this up. If not, maybe skip. Impressions will range from eye-rolling to: We Are The World, We Are The People! Some will Like, some will despise.
"Skin Deep" by Leah Petersen and Gabrielle Harbowy is a nice thriller/medical mystery. I enjoyed it thoroughly. F/F referenced and primary to story. Love.
"Lady With the Fox" by Gregory Benford is memorable and really held my interest throughout. Unfortunately, the end is not as good. He should have left some mystery, everything was over-explained, and the moral judgments fall flat. Sexual innuendo and one brief, explicit scene. Like.
"Habilis" by Howard Hendrix was not for me. Existential blather quickly became tedious. It was either too smart for me or pointless, I wasn't entirely sure. This might be another that requires a certain sensibility to enjoy, which I do not possess. Did Not Like.
"The Play's the Thing" by Jack McDevitt is good, chilling, and concise. Strongly Like.
"Every Hill Ends with Sky" by Robert Reed, who is probably not the dude who played the dad on the ancient TV show Brady Bunch (I don't think!) but, even so, this is a sad, bleak, interesting story that left me with hope. Some F-bombs in this one. Like.
"She Just Looks That Way" by Eric Choi is excellent. This is how to tell a morality tale! Interesting start to finish, this story rings true. Love.
"Siren of Titan" by David DeGraff is well-paced with good characterization. It tends to the predictable, but is a good cautionary tale. M/M relationship referenced. Like.
"The Yoke of Inauspicious Stars" by Kate Story is stylized throughout and that will appeal to some but not all. It is a strange combination of hard-boiled romance and poetic crime story. There is sparkling writing here, memorable turns of phrase, and it all worked very well for me. Strong language and M/M sex referenced. Like.
An anthology of imaginative technical musingst that's worth reading; CARBIDE TIPPED PENS is a mixed bag of not-to-miss stories while others are ho hum.
"Ambiguous Nature" by Carl Frederick is terrific. Maybe somewhat predictable, but satisfying with simply awesome characterization, pacing, and length. Original and very reliable content-wise. Love.
"The Mandelbrot Bet" by Dirk Strasser is short, but not at all sweet.. quite good. Love.
"Recollection" by Nancy Fuida is sad and rather simple. Meh.
Recommended Age:

Really brainy 11-14 year olds that can handle slightly disturbing content; Regular folk, 15+ for technical jargon

Language:

See above, not much

Violence:

Very little, nothing gratuitous

Sex:

Absolutely nothing in most (which kinda cracks me up)
Warning: The story introductions contain mild spoilers and, in the case of one, established a bias I almost could not overcome, which I did not appreciate. I found myself saving them for after, where they would have been better-placed. Overall, I was thrilled to get this in my book box and it did not disappoint. Great cover art, too. It will look great displayed prominently with your battle bots and impressive gaming systems. Looks great next to my Captain Picard action figure.