Review: Killing Is My Business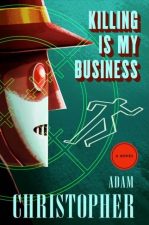 Amazon
The line between an homage and a pastiche is as thin as a sheet of New England lake ice. At times refreshing when done right, but often as bitter as an old flame's sudden departure, the Noir genre has for decades fascinated, riveted, and influenced literature, both pulps and classics alike. When I caught wind of a fusion of a hard-boiled mystery staged in an alternate 1960s LA, still as iconic as it was in the days of yesteryear, I had to crack it open over a bottle of ten-year-old stale gin for a compulsive reason. Why I have gin in my rickety desk is only my business, but I was feeling pretty cozy with this little spine opener of a yarn.
But it didn't have that pop you'd expect from a Coke. It was more like a flat Coke. Sure, it's got the feel, the look, and even the shape of a Coke, but it don't have the taste of it. You can feel it in your gullet. Something just ain't right about this one. But that's ok. Not every tale's got to be a real sob story, a mournful heartbreaker, or make your gray matter noggin do some joggin and thinking real hard about all the bad stuff that goes on in life. So it goes.

KILLING IS MY BUSINESS (Amazon) is the second case in another sweltering California grind of the RAYMOND ELECTROMATIC MYSTERIES. Another fake sunshine smiles over the Los Angeles superhighway-shadowed horizon, and Raymond Electromatic, with a similar name to another Raymond who made a certain Marlow fella, works an interesting job. He's not just a private eye, an intrepid snooper. Nah, he's a button man for the highest bidder in Tinseltown. And it's another case that starts real simple, but like any good case, it builds and twists and digs deeper as the true mystery is slowly revealed.
It's got a fine cast to its play. There's a charming voice from afar: Ada, the smokin boss in the machines, the phone lines, and Raymondo's ear. There's Zeus Falzarano: ancient mob boss and father to all his boys. There's Carmen: a moll with a slit-legged selection and hints of something more than just a pretty voice and easy eyes. And there's Alfie from the East End of London: he says bloody and gets bloody–a lot.
Not a masterpiece by any means, but KILLING IS MY BUSINESS is still a fine rendition of the chessboard known as life in the mid 20th Century America.
Everyone does their role just enough. They read their lines, drop their hints, and show a little bit more beneath smooth skin, slick scars, and titanium tin. Raymond's got a little spark in his machine man mind, heart, and circuit soul. But this yarn? This dented dream of a ghost of an Atomic Age? It ain't got much in the way of soul, swing, or swagger at all. Like a punch-drunk junior-weight boxer in the tenth round, Raymond stumbles through his case with a lot of walking, squawking, questioning, rambling, and shooting the breeze with gleeful killers. There's suggestions of a plot, some twists in the story, people being more then they let on, and glimpses of Raymond and Ada's lost past buried somewhere in a radioactive vault.
But there's nothing beyond the fresh paint on this old number. The characters don't have enough color beyond what someone thinks is color; LA's less of a fleshy and feisty starlet shining over the whole of the West Coast and more like a worn-down tourist imitation. But Raymond's a fine fellow. He's a swell guy. It's just that the story feels a little too easy, a little too long, and a little too slick how it all works out. And while Ray's got a fine voice, he never rises above the cut of other memorable PIs, or repentant button men, even with his machine man angle. He's kind, and conflicted, and he does his job with a characteristic tic of a hrrm, but you've seen this machine man's humanity song one too many times. Like an American Top 40 hit, this song's got a fuzzy idea about an age of glitz and glam, dames who manipulate and mobsters who dominate, and it's all right because it doesn't have to be more than that.
The language is crisp, clean, and lean like an upstate New York racing rig ready for back road races. It hits all the beats it needs, but it doesn't do more than that. And, hey, you know what?
That's all right with me.
KILLING IS MY BUSINESS isn't a masterpiece by any means, but it's a fine little rendition of the chessboard known as life in the mid-twentieth-century America. If you want a fusion of machine and man, and wanna spend a week with the Electro Man? Hey, knock yourself out. You just might enjoy it.
Recommended Age:

14+

Language:

Little

Violence:

Occasionally. But not a lot of blood and guts and limbs, either.

Sex:

Innuendo and some body touching, but it's clean enough.