Review: The Monstrous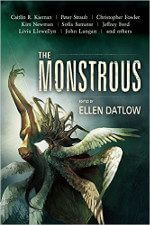 Amazon
There is a certain way that little old ladies look at you when they find you reading books with covers like this one. There were several times while reading the book, however, that not only did I catch some of those little-old-lady glances, but I caught myself looking at the book itself with what I imagine to be a very similar facial expression to those ladies. It's been a while since I've come across quite so many great stories as those that have been contained in these horror anthologies compiled by Ellen Datlow. The best part is that I have one more of these beauties sitting on my shelf, waiting for me to sink my claws into it. And after this one, I can't wait to do just that.

THE MONSTROUS (Amazon) is the second in a string of horror anthologies recently put together by Ellen Datlow through Tor and Tachyon Publications. They revolve around the idea of "monstrous" things, in all shapes, flavors, and sizes, and how the "regular" humans react. Herein were absolutely some of the creepiest horror shorts that I've ever read, and judging from the author list, this shouldn't surprise any of you that are familiar with the genre. The writing varied some, as is wont to happen in these books, from decent to REALLY good, with the majority tending toward awesome.
As is my wont to do, here's a breakdown for the individual stories of the anthology:
Loved: 7
Liked: 4
Mediocre: 5
Liked and Hated: 1
Didn't Like: 2
Hated: 1
So there were obviously some that I didn't care for, but look at how top-heavy the ratings are. Yeah? Here are some notes on a handful of the goodies:
"Ashputtle" by Peter Straub: Holy freaking wow. Picture of an out-of-the-ordinary kindergarten teacher. Read a quote by Stephen King once about Peter Straub along the lines of "when he's firing on all cylinders, there's no one better". This is Straub firing on all cylinders. My favorite of the bunch.
THE MONSTROUS revolves around the ideas of "monstrous" things, in all shapes, flavors, and sizes, and how "regular" humans react. Creepy stuff indeed.
"The Last, Clean, Bright Summer" by Livia Llewellyn: A girl's diary entries about the family trip they take to the beach where she learns the dark side of everything that they are. Really whacked out. Disturbing and brilliant.
"Catching Flies" by Carol Johnstone: A little girl learns more about the family curse after her mother dies. Shiver-inducing.
"Doll Hands" by Adam L G Nevill: Futuristic convalescent home. Caretakers are all freaky and weird. People dying all over the place outside. Caterers show up with two supposedly "dumb" young men that are meant to be consumed by the more wealthy of the residents. Creep out, but no surprise. Love this guy's stuff.
"Miss Ill-Kept Runt" by Glen Hirschberg: A young girl and her family are leaving their house to travel to a new destination. She slowly comes to realize that something is coming for them. Really creepy. Ending was brilliantly good.
Lovers of horror will love this anthology. A great one to bury you teeth into.
Recommended Age:

18+

Language:

Yes...

Violence:

Yes...

Sex:

... and Yes