Review: Assassin's Charge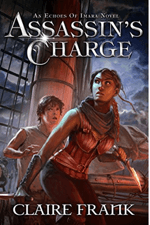 Amazon
I am so very tired of the "tough, damaged, beautiful-but-gritty chick/superhero" fantasy trope, so one would assume this book would not thrill me. Not so, and: Lucky me! The first selection I chose to read from the 2016 Self-Published Fantasy Blog-off is a winner. I will be pulling for ASSASSIN'S CHARGE, a standalone novel set in a previously explored world, and for Claire Frank. I'm hoping this book gets some attention.
Mostly taken from Amazon's synopsis: Rhisia Sen is one of the Empire's highest-paid assassins. Living a well-ordered life of luxury, she chooses her contracts carefully, working to amass enough wealth so she can leave her bloody trade. She is offered a new contract on the outskirts of civilization and almost refuses—until she sees the purse. It could be the last job she ever has to take. She might finally retire to a life of peaceful leisure, but when she reaches the destination she discovers her mark is a child.

Both the contract and her reputation demand she kill the boy—if she can banish his innocent face from her mind, but another assassin has been sent to kill her and a notorious bounty hunter is on her trail. She doesn't know why the boy is a target or why her former employer wants her dead. Saving the child could be her only chance at survival.
You can probably guess what comes next, but predictability did not detract from my enjoyment of a well-crafted, nicely paced story. I appreciate a balance of magic, danger, conflicted and damaged characters-that-grow, and romance that does not tip into the disgusting. This story hits all my marks. Also, and thankfully, the expected violence in this story has consequences, both emotional and temporal, and is never gratuitous. The relationships ring true, which is more important in fantasy than almost any other fiction genre, I've read somewhere here on Elitist. And believe.
ASSASSIN'S CHARGE may be predictable, but fortunately the well-crafted story makes up for it. Great stuff coming from the Self-Published Blog Off contest.
Flaws: Some plot repetition, one magic-item red herring, and an overall lack of originality and magic system inventiveness. Since none of these things are deal breakers for me, they were easy to overlook.
Writing Quality: Excellent, it flows well. Plotting: Somewhat predictable, as mentioned, but enjoyable. Characterization: Good motivation throughout (watch soon for EBR's Blog-off Commentary about characterization). Pacing: Excellent. Dialogue: Quite good. Magic System: Basic, nothing new. Romance: Mmm hmm, worked for me. Sense of Peril: Well done and sometimes even surprising. Character Growth: Marked, though somewhat sudden at one point. At least there was some growth, which is all-too-often neglected, and it made sense in light of the characters' back stories. Eye-Roll-Count: zero. Will-I-Read-More-From-This-Author: Yes! I hope Frank's previous novels set in this world are as good because they are now on my to-read list.
Recommended Age:

16+, for some sex and violence

Language:

None

Violence:

Mild for an assassin-themed book, but plenty

Sex:

Some scenes with moderate-to-minimal detail