Review: The Mermaid's Secret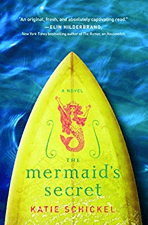 Amazon
Are you in the mood for a breezy, uncomplicated read? Would you like to capture a bit of summer as winter digs its angry claws in for another bite? Did you love the movie Splash? Do you or would you like to speak "surf?"  (It's an identifying language, just like all other sub-cultures possess.) Good news: I have a sweet, entertaining story for you! Turn off your analytical brain and enjoy.

Jess Creary is restless and confused, still reeling from the death of her older sister, Kay, two years prior. Her mother disappeared shortly afterward. The only thing Jess has going for her are surfing off their island home in Maine and Matthew, the handsome captain of a fishing boat on which she works flipping burgers. On her 23rd birthday, Jess catches the perfect wave and somehow transforms into a mermaid. Not a femme fatale mermaid playing languidly in the water, but a powerful predator with superhuman strength. (Nice mini imagination explosion here. Kudos.) Shortly after this unexpected supernatural occurrence, Jess's human legs are restored (a bit too easily) and she then runs into a mysterious Native American shop owner who relates to her the legend of Ne'Hwas the mermaid. It seems that Jess has thirty days to choose between land and sea, legs and fins… human life or the exciting freedom of the sea. The temptation to abandon the real world and its messy, confusing problems become almost overwhelming, even though the ocean is a dark and dangerous place. There is the hunky boyfriend to consider, but everything else pulls our reluctant mermaid to a seemingly fantastic life under the sea.
A breezy, uncomplicated read, THE MERMAID'S SECRET can be predictable, but the love story works and you can learn some righteous Surfspeak.
Books like this are hard to review because there was nothing really awful in it, but … nothing amazing either. Captain Matthew is appealing. Though there is too much repetition, the pacing is pretty good. Now, if one were to read this with low expectations on a nice tropical beach with a warm breeze and a fruity cocktail, that would make all the difference. If you have no stomach for romance, though, and don't enjoy suspending your disbelief entirely too often, then definitely skip this one.
The somewhat predictable love story actually worked for me and, thankfully, Schickel's use of surf lingo was authentic. Her writing flowed naturally, unobtrusive and breezy, as one would hope for in a story like this. But, oh my, the plotting was implausible. It almost earned this book a "mediocre" from me, but a well-crafted ending saved the story and barely edged me into "like" territory. So, when you book your spring break vacation, maybe pack/download this book. You will have fun and learn some righteous Surfspeak.
Recommended Age:

15+

Language:

Not what one would expect from a surfer/sailor relationship. Maybe one F bomb in a stressful moment and a few Gd's, but the rest pretty mild.

Violence:

A few brief scenes, no gore

Sex:

Some sensuality and one nicely-written scene with minimal detail