Giveaway: An Affinity for Steel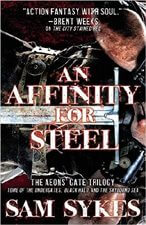 Update 7/22/2016: Benjamin T. from Colorado Springs is our winner. Congrats and your book will be on its way shortly. Thanks to everyone who entered!
Sam Sykes' AN AFFINITY FOR STEEL is in reprint with a new publisher, and to help get the word out we're giving away a copy. If you haven't read his stuff, it's worth the time! To enter this giveaway:
1. Email us at elitistbookreviews@gmail.com
2. Include the following on the subject line: AFFINITY FOR STEEL GIVEAWAY
3. In the body of the email include your name and mailing address. This giveaway is only available to U.S. addresses (because this monolith of a book is actually three books in one, so it'll be a beast to ship).
Giveaway rules can be found here. Entries will be accepted until midnight of July 21st and the winner will be posted on the 22nd. Good luck!
And don't forget to check out Dan's review here.