Review: Dreams of Distant Shores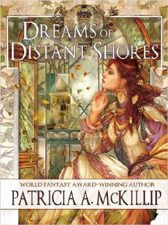 Amazon
Patricia A. McKillip's writing is often described as 'ethereal.' If you've read really anything by her you would be nodding your head. In her most recent anthology, DREAMS OF DISTANT SHORES, we are treated to her lovely prose, with a collection of stories that are surprisingly different. They are alternately strange and silly, but all are thought-provoking.

"Weird" is a short story about a couple picnicking on a bathroom floor and to pass the time he (we don't learn their names) asks her to tell about the weirdest thing that's happened to her. I wasn't really sure what was going on, and why when there was a menace outside the door, they would go about their picnic as though they didn't have a care in the world.
"Mer" is a modern fairytale about a goddess who decides to inhabit the body of a witch for 100 years, then the witch inhabits the body of a wooden mermaid. This story shows McKillip's goofy side because of the things that happen to the wooden mermaid.
"The Gorgon in the Cupboard" is about Harry, an artist in a community of artists. Jealous of the local popular artist and his beautiful wife, he moons after the wife, desperately desiring his own muse, as his works feel uninspired. This synopsis makes the story sound ordinary, but McKillip infuses the scenes with magic–and despite the painting of Medusa that talks to Harry, it's really not the otherworldly magic that takes center stage here, but the magic of comprehension, understanding, and kindness. What starts out as two characters with unattainable needs turns into a sweet story.
"Which Witch" is completely different than the other stories in the anthology, especially in its prose and PoV narration, which is more snappy and sassy (this woman can really write, let me tell you). The witch Hazel's familiar is a crow, who has his time as a PoV narrator, as well. Hazel is a young witch still, and is learning about her magic and abilities. The crow warns her of danger, but she doesn't realize what the danger is until she joins her rock band at the club and they have to deal with the evil while on stage. Playing their music. All without letting their audience know what's going on. For the story style the actual fight was surprisingly non-specific, but in McKillip style was more abstract. I liked it.
"Edith and Henry Go Motoring" is about our title characters who decide to take a day trip with a picnic and unexpectedly pass a tollbridge operator with a nebulous toll of "half" what they bring back. They discover a mysteriously empty village gateway to a strange country not on any map. It's a little confusing at the end, but it's not unusual for McKillip to allow readers to draw their own conclusions at the end of stories.
Here we are treated to lovely prose throughout a collection of stories that are surprisingly different, alternately strange and silly, and thought-provoking
In "Alien" a grandmother claims to have seen aliens, but the family doesn't believe her, and when the family congregates for a reunion they try to involve her, but she seems content to wait for her otherworldly visitors to return. Told from the PoV of a, adult granddaughter who is concerned about the well-being of a beloved widowed grandmother, she humors her grandmother into telling her about what happened, but doesn't really believe it herself. Even in short stories McKillip gives a sense of character and the relationships between people with a depth easy to understand.
"Something Rich and Strange" is a novella-length story about Megan and Joshua who live in a coastal town. When an artist drifter arrives in town, their sedate lives are jumbled, implying change. Then the stranger's sister arrives and Joshua is pulled into another world that he seems unable to navigate or stay away from. Megan realizes how she loves Joshua and discovers that she has more strength than she realized. McKillip's stories can be so full of the strange and yet make you feel like that's exactly the way the world works at the same time. I don't know how she does it, but it's beautiful.
Quick to read and at the same time thought-provoking, DREAMS OF DISTANT SHORES is for the discerning fantasy reader.
Recommended Age:

14+ more for comprehension than content

Language:

Hardly any

Violence:

A scene or two but not bloody, mostly implied peril

Sex:

Referenced
Your link:
Dreams of Distant Shores

—Amazon