Review: Gentleman Jole and the Red Queen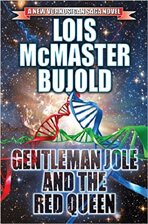 Amazon
Cordelia is a widow, but has a good forty-year life expectancy remaining. If you had that long to live after a beloved companion dies, how would you live it?
GENTLEMAN JOLE AND THE RED QUEEN takes place three years following the events of CRYOBURN (EBR review) and the stunning endnote that would leave longtime fans of the series shocked and saddened. But Lois McMaster Bujold still has plans for our beloved Cordelia; these plans may surprise you, but if you really know Cordelia then perhaps they won't.

I want to start off with a warning. If you didn't like A CIVIL CAMPAIGN (Amazon) you may not like JOLE. VORPATRIL'S ALLIANCE (EBR review), despite its romantic overtones, still had its own mayhem to keep the story exciting. JOLE, however, is nearly pedantic in comparison. Not that I didn't find it interesting, because I did, but its topics of moving on after mourning, choosing to have children, and love later in life are themes some readers may find less adventurous. Another thing potential readers may want to know is that while this book would be fine to read while not having read any of the rest of series, I'm not sure most of the references (while briefly explained) will mean as much to you. And there are a lot of references in this book to past events and people throughout this extensive series.
The crux of the story starts right off the bat: Cordelia decides to have more children, only daughters this time, with her dead husband's DNA. And has decided to share the extra eggs with Aral's former lover, Admiral Oliver Jole.
Cordelia is a widow in GENTLEMAN JOLE AND THE RED QUEEN, but has a good forty-year life expectancy remaining. If it was you, how would you live those years?
Yes, it's complicated, and we spend the whole book sorting it out.
In the meantime, Cordelia and Oliver Jole strike up their own romance. This is the same Cordelia we know well and love. We know Jole less so, but that's solved here and it's easy to see what Cordelia sees in him (and him in her) despite his myriad differences from husband Aral. Of course we get the cameo by Miles and family, and the mayhem he always brings with him.
Bujold's crisp, fluid, and wryly observant prose is as easy to read as usual and here her pacing and forward movement are more vital than ever due to the subject matter, which could have grown boring and fallen flat. Two 'old' people falling in love? How could that be interesting? Turns out that romance in more advanced years can mean even more complications as well as hard decisions to make. Fortunately more experience makes for a different kind of love story–there are no contrived misunderstanding or separations here. No, instead potential thwarting of love is caused by adult children, jobs, and physical limitations. Alas. Makes for fascinating dynamics, though.
Bujold doesn't skimp on setting, which is the planet Sergyar, of which Cordelia is the planetary governor. From bugs to water life to animal life, to plate tectonics, we're treated to the colonizing stage of a planet and how that is managed. Plus the always eye-rolling Barrayan politics. Leave it to Bujold to create a book with fully realized setting and characters and the story to go with it, and to do it in a way that is hard to forget.
Recommended Age:

15+

Language:

A handful

Violence:

Wrangling the local fauna

Sex:

Yes, it's a romance
If you haven't met Cordelia yet (and you should, she's pretty awesome), start here:
CORDELIA'S HONOR – Amazon