Giveaway: Champions of Aetaltis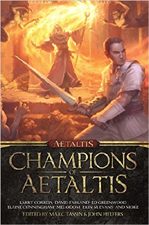 Update 5/20/2016: Tim from Decatur is our winner. Congrats! Thanks to everyone who entered.
The newly released CHAMPIONS OF AETALTIS (Amazon) is an anthology of fantasy stories by some of today's most notable authors. The publisher has graciously offered a hardcopy to one of our fantastic readers. To enter this giveaway:
1. Email us at elitistbookreviews@gmail.com
2. Include the following on the subject line: Champions Giveaway
3. In the body of the email include your name and mailing address. This giveaway is only available to U.S. addresses if you want a hardback. I might be able to convince the publisher to send an e-copy to an entrant outside the U.S. via email, just let us know if that's the case.
Giveaway rules can be found here. Entries will be accepted until midnight of May 19th and the winner will be posted on the 20th. Good luck!
And don't forget to check out Dan's review (EBR Review).