Review: Downfall of the Gods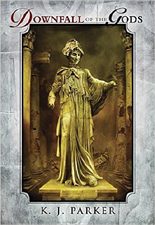 Amazon
I feel blessed. I couldn't have been more happy to see some potential goodness like this story show up in the mailbox to help me out of the funk that most of my last few reads have left floating around in my head. What better to help me out than a novella from one of my favorite authors? Although, I was kind of surprised to find yet another novella coming from Mr. Parker. It seems as though, despite all evidence to the contrary that such a sales model doesn't typically work, at least one author has figured out how make a goodly number of sales with fiction that is short of novel length. Hmm. Go figure. A sign of good things to come? Hopefully, my friends. Hopefully. 🙂

DOWNFALL OF THE GODS (Amazon) is set in (and above) the fantasy world that K.J. parker has been building for some time now. One of the goddesses of the pantheon has chosen to NOT grant the prayers of Lord Archias after he has murdered another man, despite the fact that he's done all that is required of him to receive such a reprieve. It turns out that she just doesn't want to. Okay, perhaps there's a little more to it, but to say the least she is not particularly happy with him. As a result, the government has taken his titles and wealth and then condemned him to death. Her father, highest of the gods, illuminates the situation for her with a few likely consequences to this lack of action, and eventually she chooses instead to grant the man's wishes if he will perform a simple task for her.
Heh. Simple.
This novella was absolutely hilarious, and I loved every single minute of it. Probably my second-favorite story from Mr. Parker (my all time fav being Purple and Black). There's quite a bit of good commentary on the relationship of gods to humans and vice versa. There is also a running-theme along the lines of "the gods can do anything they want to," and it's used brilliantly-well.
DOWNFALL OF THE GODS was absolutely hilarious, and I loved every single minute of it. Gods and monsters and simple tasks. Oh how sweet it was.
The journey these two take is a fairly simple one: starting in the prisons of the government, moving through the world at large, and ending with a confidence game that leads to the Downfall of the Gods.
A fairly simple concept for a fairly simple story. But one that was oh so much fun. Loved, loved, loved it.
Recommended Age:

14+

Language:

Not much

Violence:

Very little

Sex:

Mild, conversational