Review: Black Bottle Man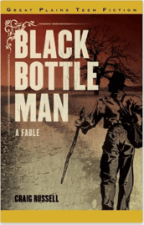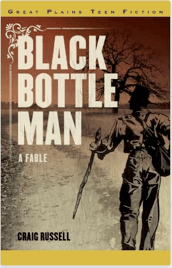 Amazon
I read this book a few weeks ago, but wanted to give it a bit of time to settle. I mean, was it really that good? I found myself comparing it to one of the greatest of American novels, and I hesitated. Will the seemingly unforgettable characters stick with me, even in the cloud of life and more reading and all? The answer is: yes! If anything, many characters and scenes from BLACK BOTTLE MAN (Amazon) are even more vivid now than the day I read it, and I consumed this little masterpiece in one sitting. Bravo, Craig Russell. I hope there is much more to come.
The synopsis from Amazon.com is so good, I copy it here:
Forced to move every twelve days, what would happen to your life?
It's 1927. Rembrandt is the only child in the tiny community of Three Farms and his two aunts grow desperate for babies of their own. Hope and Hell arrive in a mysterious black bottle, and on a moonless night a dark spell is cast. Soon after, a man wearing black top-coat, and a 'glad-ta-meet-ya' smile comes to visit. The devil seeks payment, and a dangerous wager is made. Until they can defeat him, Rembrandt, Pa, and Uncle Thompson must embark on the journey of their lives, for if they stay in one place for more than twelve days terrible things happen. But where and when will they find a champion capable of defeating the Black Bottle Man?
Time ticks.
Lives change.
Every twelve days.

I notice "Great Plains Teen Fiction" on the cover, but this is not typical modern YA fare. This book sings and weeps and sometimes bleeds with the simple language music of the early 20th Century American and Canadian prairie. In less-capable hands a story like this would simply hurt too much. Infused with the sweetness and wholesomeness of Midwestern values that linger still in the harshness of the environment and the hardiness of the people, it is pitch perfect. Craig Russell's beautiful fable left me longing for days gone by and somehow also lamenting the superstition and ignorance that results in terrible choices and worse unintended consequences. Even as this story brings superstitions and devils to life.
Characters and scenes from BLACK BOTTLE MAN are even more vivid now than the day I read it, and I consumed this little masterpiece in one sitting.
We grow with Rembrandt in unexpected ways. We are optimistic as only the young can be and desperately hopeless as only the often-crushed dreamer, but we never consider giving up. We are enchanted by the beauty of Leona and we are heartbroken and beaten down, but like the intrepid early settlers that turned that impossible landscape into one of the most productive pieces of real estate on the planet, we eagerly carry on, page after page. I thoroughly enjoyed the threesome's quest to save their unfortunate, misguided, conflicted family, and it was anything but predictable.
The concise writing disappears into this story. There is a respect for beloved traditions and a reasonable questioning of certain values that I found appealing. I hope BLACK BOTTLE MAN is not overlooked for its brevity and YA designation because this novel is refreshing and timeless, and ageless, and I believe it belongs on/in every discerning reader's book shelf/digital library. Yeah, that means you. So get it, read it, and let me know what you think, please. And remember, TO KILL A MOCKINGBIRD, if written today, would probably be relegated to the teen fiction aisle as well. Just sayin'…
Recommended Age:

13+

Language:

Colorful mild colloquial swearing

Violence:

Some, no gore

Sex:

Marital relations mentioned, some scenes with teenage lust and heavy petting