Review: Fiction River: Alchemy and Steam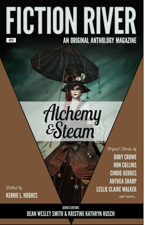 Amazon
I love the art of the short story, and always have. I've written a few myself, much to the conspicuous delight of mostly bored teachers and professors, leading me to believe I had "it" and would someday write something really fabulous. But in the real world, the "it" factor is oh-so-rare. I am happy to say that several of the stories in this anthology have at least a spark of brilliance and, in several cases, more than just a spark. Just look at the gorgeous cover art, hinting at the awesome content within!

FICTION RIVER is an original anthology series that seeks to publish in many genres from diverse writers, both new and well-established. Book 13 is its Steampunk offering. Earlier volumes focused on themes such as Crime, Valor, and Unnatural Worlds. What has disappointed me about most anthologies, especially the speculative fiction-based ones, is unevenness in tone from story to story and seeming carelessness as to the target audience. ALCHEMY AND STEAM, edited by Kerrie L. Hughes, series editors Dean Wesley Smith and Kristine Kathryn Rusch, is quite balanced comparatively. Even though several stories lack depth and scope, there is a genteel quality throughout and a reliability in character development and content that was gratifying. There's nothing worse than buying an anthology to catch a bit of my favorite author during those sometimes-interminable waits between volumes, then realizing that none of the other stories are what I would prefer to read due to content or quality, or both. This happens all too often, but not here.
That said, if you truly despise Downton Abbey and the cinematic Edwardian clones it has inspired, you will probably hate most of this collection. But if you would deign to be inspired by a mixture of good manners and the macabre, leather and lace and clockwork nightmares, romance and horror, please pick this up and see if it doesn't warm the cockles of your modern cynicism. (And you didn't even know cynicism has cockles, but it does . . . and they need warming.)
I miss old-fashioned storytelling a la Hitchcock/The Twilight Zone/The Wild Wild West, which was the very first American Steampunk on the telly if I am not mistaken. Storytelling that relies on plot twists and intelligent dialogue rather than cheap shortcuts like excessive language and gore: those things may warm the cockles a bit, but they soon grow cold. Like my metaphor.
Thumbnail synopses:
"The Rites of Zosimos" by Angela Penrose: My thought was "like a genteel Poe." 5/5
"Heart" by Leslie Claire Walker: Macabre but sweet. 4.5/5
"Pennies for Portents" by Diana Benedict: Predictable, but memorable. 4.5/5
"The Order of the Golden Grapefruit" by Sharon Joss: Sugary sweet, long bedtime story, very tame. 3.5/5
"The Perfect Perfume" by Anthea Sharp: Empty little fairy tale. 2/5
"The Grand Dangoolie" by Ron Collins: Very good, quite memorable, made me want much more. 5/5
"The Whirring Dreams of Aberrant Blood" by Cindie Geddes: I just wrote "huh?" at the end. Dystopian bleak horror, short and sad/sweet. I also wrote: "4/5, I guess." Confusing.
"St. Jean and the Dragon" by Brenda Carre: An overworked dragon tale, but not bad. 4/5
"Weight in Gold" by Dory Crowe: Linear little fable, goes nowhere. 3/5
"Heaven's Flight" by Leigh Saunders: Back to terrific, Regency Romance with mechanized wonders. 4.5/5  (a bit of modernism was the only flaw)
"Blood Moon Carnival" by Kim May: Began well, ended clumsily, many punctuation errors. Needs editing. 3.5/5
Even though several stories in ALCHEMY AND STEAM lack depth and scope, there is a genteel quality and reliability in character development that pleases.
"Makes the World Go Round" by Kelly Cairo: Wow. Just, wow. Loved this myth-like fable; great writing. 5/5
"Myrtle's Boxe"s by Louisa Swan: More fantastic writing, quirky and wonderful. 5/5
Great job, editing team! I will read some of these stories out loud for selected family members when we gather soon, and for my own enjoyment, and I hardly ever re-read. Must-buy, I'd say.
Recommended Age:

Five to a hundred and five! Something for everyone.

Language:

None

Violence:

A bit of gore here and there, mostly in

Sex:

A bit of sensuality referenced in
Fiction River: Alchemy and Steam

—

This Review

—Amazon