Review: Little Robot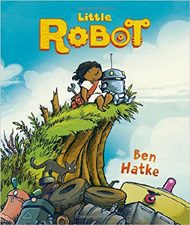 Ben Hatke already has a following from his adorable ZITA THE SPACEGIRL (Amazon) series. Now with LITTLE ROBOT, Hatke explores a little girl's and a young robot's desire to feel belonging.

A little girl with a knack for machines happens across a misplaced box with a small robot inside. She helps fix it up and teaches it the joys of exploring the world around them. Before long the little robot discovers something else that looks more like it than the little girl does.
There aren't many words in LITTLE ROBOT, but there doesn't need to be. The story moves along at a natural progression and quick pace, although there were a few times when I wondered at events with no direct correlation to the plot (dead squirrel… Iron Giant reference?) or unexplained questions (What's the girl's name? Who made the robot?).
The pictures are beautiful, so I had to include a couple here–with permission from the publisher, of course. The illustrations are more picture-book style than a comic book, but they work well for the story and audience. The robots are cute and will appeal to both boys and girls of elementary school age. However, middle grade kids may find the simple storyline uninteresting.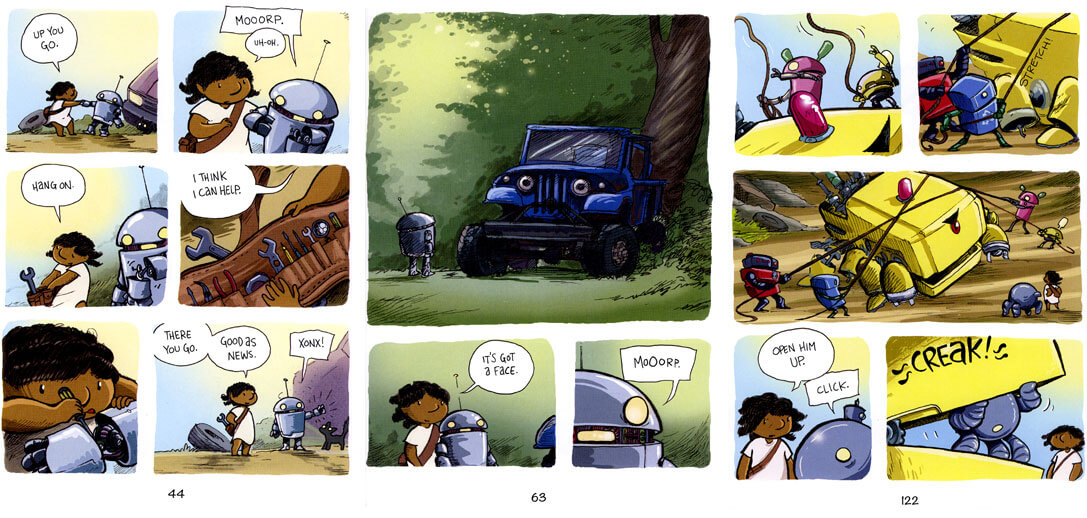 If you're looking for a fun Christmas present for your little ones newly learning the joys of comic books, check this one out.
Recommended Age:

Any age, but geared toward ages 6-9 years

Language:

None

Violence:

Mild peril

Sex:

None