Review: Nemesis Games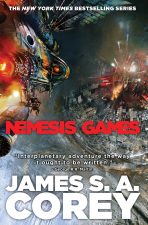 Amazon
Not only did this series get a major upgrade with the last book (hardcover, anybody?), but we also heard that SyFy had picked it up for a 10-episode series (which begins to air this December), and they also started writing for series two of the SyFy series last month. That's June. Six months before the series even premieres! Just freaking cool. Still, I'm already itching for book six, Babylon's Ashes. Although, we'll get a new novella (The Vital Abyss, Oct 1st) in just a few months, and then the tv series in December, so the time between now and then should just fly.

NEMESIS GAMES (Amazon) is the fifth book in the Expanse series, written by collaborators Daniel Abraham and Ty Franck writing as James S. A. Corey. It's easily one of the best soft science fiction series being written in today's market. I was really looking forward not just to this book in particular, but this kind of book in the series. In the first four books, we've seen Holden and Naomi as POV characters, but nothing yet from the other crew members of the Rocinante. What with most of the books in the series only having four POV characters (two in LEVIATHAN WAKES — EBR Review), we could only get so much crew POV. Not this time though. This time we get to see the four characters of the book being the four crew of the Roci. How did they do that, you might ask? After all, having multiple characters given head-time when they're all as close as these four are is akin to throwing in the towel in a novel.
Quite simply: the crew splits up.
Okay, so it's understood that the split up is only temporary when it happens, so don't go freaking out on me or anything. What this does is let us learn some more about Alex and Amos as the story is told this time around, and although we don't learn a whole lot of new stuff about them individually, it was great to spend some time in their world and the plots surrounding their corners of the solar system.
After the massive beating that the ship and crew had taken in CIBOLA BURN (sooooooo good people. If you haven't read that one yet, you seriously need to go do it right now, see the EBR Review) they head on back to Tycho Station for some much-needed rest, relaxation, and ship repair. That doesn't last for long though. Of course not. No rest for the weary and all that jazz.
Naomi gets a video call from a man from her past, and though she doesn't want to share very much with anyone, there isn't a single question in her mind to keep her from jumping in the next ship and heading off to see him. Naomi history, people. Way cool stuff here.
Alex gets the itch to try and smooth things over with his ex back on Mars. This is the first chance he's had for time off since all this protomolecule mess began. About all we know about his relationship is that he bailed on her one day and became the pilot of the ice freighter we all met in LEVIATHAN WAKES without telling her beforehand. Mmmmm-messy.
Amos gets a call from Earth saying that a woman from his past has died. If you've been keeping up with the novellas (in this case, The Churn) you'll recognize who the woman is. If not, you should go read those too. They're great. So, he takes off on a trip to Earth with some plans to go and visit and old "friend" of theirs from the Mao clan.
And then there's Holden. He gets kind of cold-cocked by all of his crew wanting to up and bail on him. After clearing his head a little, he starts to help out his "buddy" Fred Johnson. But don't think that just because he stays home while the rest of his crew go out to play, that this means his life is going to be all peaches and cream. Oh, no sir-ee. It's time for a turn for the home team to mess things up, and the political players of the game have decided to crank up the heat.
NEMESIS GAMES is the 5th book in the Expanse series. Easily one of the best soft Science Fiction series being written today. Check it out.
Okay, so this book was freaking great. There is just no other way to say it. It was more like book two (CALIBAN'S WAR — EBR Review) for me when looking at the series thus far, in that the aliens pretty much take a backseat and the major players of the known solar system get a shake up. We get to see just what kind of potential these humans have within themselves to screw even more stuff up than the aliens have. And boy do they deliver. Just wow.
More Bobbie. More Avasarala. Deal. Loved them. Even as secondary characters they are just solid. There are twists and turns to this novel that left me in a lurch. Like that moment just before you drop down a hole and the feeling you get in the pit of your stomach. Ohmygoodness. Whoosh! There was so little time for me to breathe in this one. It just kept going and going. One thing after the next. And you're thinking nothing bad is going to happen to this character, surely, but nope, you're wrong again. And don't call me Shirley.
The one criticism I had of the book was that the timing of Amos's woman-friend was extremely well-timed for the story and seemed somewhat contrived, but even with that floating over its head, this story was just great. From the opening line, through the convergence of each character's story into the nerve-wracking climax, all the way to the final revelation, it delivered over and over again.
I recently suggested this series to a co-worker of mine, and he ended up buying them all and reading them one after another. Just burned through all of them. This book, he said, was his favorite. So, I'm giving you two glowing recommendations for this book inside a single review.
What more could one ask for, you might say? And I would simply smile and reply, "You're Welcome."
Recommended Age:

16+

Language:

Quite a bit of strong language, mostly a-la Amos and Avasarala

Violence:

Uh. Amos is a POV. Yeah, there's violence. Both small and large-scale

Sex:

One scene in Abraham's M.O. where we get learn a bunch of general relationship stuff once the characters get going