The Planet Mercenary RPG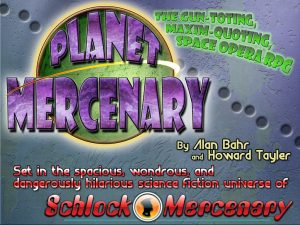 It's time for another Kickstarter recommendation!
This time around is The Planet Mercenary RPG. This is Role Playing Game designed by two good friends of Elitist Book Reviews: Howard Tayler and Alan Bahr. Do those name sound familiar? They should. Howard Tayler is best known for his Schlock Mercenary webcomic. Alan Bahr is a game designer, and one of the reviewers here at EBR. Both are great friends, and great people.

The Planet Mercenary RPG is something I've been looking forward to for a while. It's an RPG set in Howard Tayler's Schlock Mercenary universe. Big. Explody. Fun. But it's so much more than that. It would have been exceptionally easy for Howard to throw out a sub-par product with lazy design. It would have been easy for him to recycle all the art he's already created. And consumers probably would have been OK with it. But that's not what has happened here.
Alan designed an RPG system from the ground up. Howard contracted out tons of art–some of which you can see on the Kickstarter page. I talked to Howard and Alan about it, and they were both adamant that this isn't just a Schlock Mercenary RPG. It's a Science Fiction Space Opera RPG. They went bigger. They are taking the risk.
It's been incredibly satisfying, as a friend to both of these good fellows, to see the success the Kickstarter campaign has attained so far. These guys deserve it.
There are only 4 Days left in the Kickstarter. I want to see these guys earn even more money and put out an even bigger and better product. Go over there, check it out, and support them. With a lot of Kickstarters I'm nervous to recommend them. Not this one. I know Howard. I know Alan. More importantly, I know the person handling the finances behind the scenes, Sandra Tayler. She's amazing, and she's making sure everything is on the level.
Here's your link, both spelled out and embedded for your ease:
The Planet Mercenary RPG: https://www.kickstarter.com/projects/howardtayler/the-planet-mercenary-role-playing-game/description
If you only support one RPG this year, support The Planet Mercenary RPG.