Goodbye, Terry Pratchett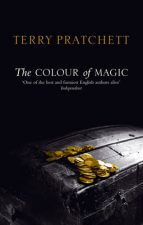 "Don't read THE COLOUR OF MAGIC. It's Pratchett's worst novel. Start somewhere else." That's what people told me. Start somewhere else in the series? Really? The suggestion didn't sit well with me. It didn't matter that to me the series wasn't supposedly sequential. I had to start from the beginning.
THE COLOUR OF MAGIC wasn't a perfect novel by any means, and to be honest, I could see why people were down on it. The humor, the satire… it was just a bit off. But the potential was easy to see. I was introduced to Rincewind, Twoflower and The Luggage. This was my first glimpse into Ankh-Morpork, and into the Discworld universe.
***
Two weeks ago I was rearranging my bookshelves. I bought a house, and with it came an office in which I could fill with all my books. I have quite a few, and among them I have my… favorites. Books signed by friends. Books by authors that inspired me, and continue to have a profound impact on me and my writing. Novels and collections from specialty publishers.
And then there is the shelf of Terry Pratchett novels.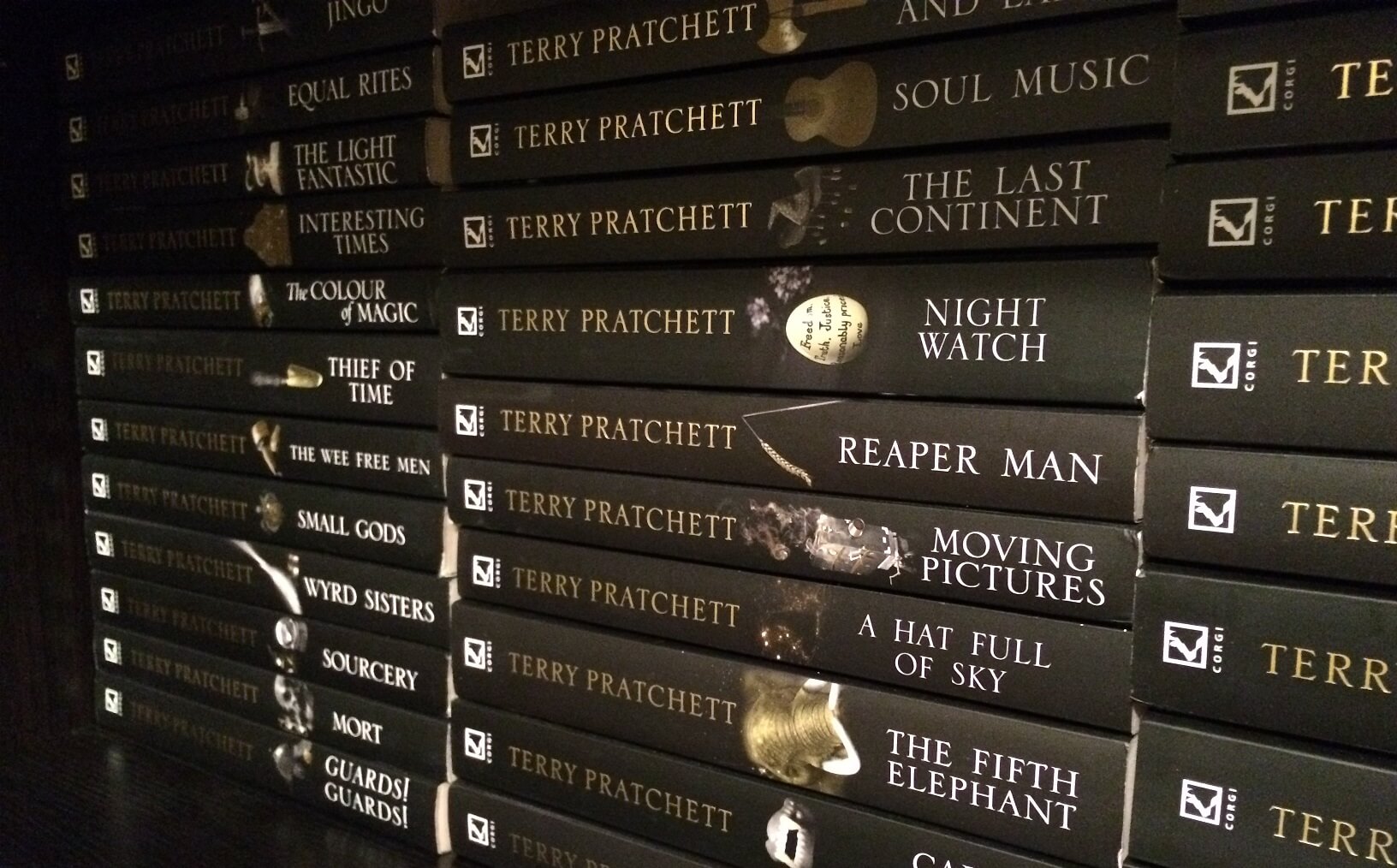 When I was visiting England several years ago, I made it a point to visit every bookstore I passed. My wife begrudgingly allowed my giddy enjoyment of shelves upon shelves of books. In Waterstones, I found a huge assortment of Terry Pratchett novels. They weren't the ones I was accustomed to seeing in the US. These versions were sized in between Trade and Mass Market, and they had uniform cover design. I was instantly in love. To start my official collection, I bought THE COLOUR OF MAGIC and just a few more–there was only so much room in The Luggage. When I got back home, I began the long process of importing the rest. I'd found nearly all of them.
So when I was down in my office, I again saw that shelf and realized, "Dang, I'm missing five of them still." I found them all through various vendors. I thought that perhaps I would start start reading them all again from the beginning and share my personal thoughts on each book here at EBR and on my personal blog. Three of the missing novels arrived Monday. Two arrived yesterday–WINTERSMITH and MAKING MONEY.
Coming home to see those packages brought a smile to my face. It was as if he'd said a personal goodbye to one of his silly fans in his own way.
I'm going to miss Terry Pratchett. I wish I could have met him and shared my appreciation in person. He had dozens more novels in him, all of which I would have liked to read. But I do have a shelf full of the ones he DID write, and I plan to re-read them and cherish them. I know not every novel is good. Some are great, some not so much, and that's OK. But I'm going to enjoy the journey, from THE COLOR OF MAGIC until the end.
From myself and everyone here at Elitist Book Reviews: goodbye, Terry Pratchett. We'll miss you.