Review: Poison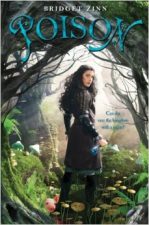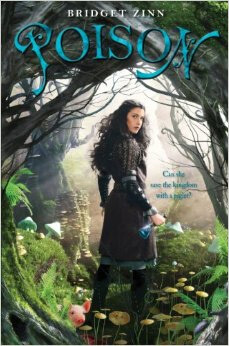 Amazon
Kyra wants to kill the princess.
There was even an attempt, but she missed with her poison dart, and now she's on the run from the king's soldiers. She wants to finish the job, but the princess has gone into hiding and Kyra needs the rest of the poison potion she made at her old apartment where her former business partners still live.
Did I mention the princess used to be Kyra's best friend?

POISON (Amazon) by Bridget Zinn is about a 16-year-old young woman whose latent magical ability warns her about the death of the land after the marriage of the princess to her betrothed. Now Kyra's set on killing her best friend, because if she doesn't then the kingdom is in danger. She seeks the help of the local crime boss, who gives her help to find the princess.
Kyra wants to kill the princess.There was even an attempt, but she missed with her poison dart, and now she's on the run from the king's soldiers in POISON.
That introduction doesn't make this book sound like the super cute book that it is. Until you learn that the crime boss gives Kyra a piglet with the special ability to find anyone she's tasked to find. Kyra puts up with the little thing because it's a means to an end. Little does she count for becoming attached as well as meeting a new friend along the way, handsome Fred from the next kingdom over who's out to explore for the fun of it. Kyra's PoV narrative is snarky and adorable in equal terms as she comes to realize things about herself. Fred (and later on Princess Ari) are fun additions to Kyra's circle, and watching them interact with each other was entertaining.
We follow Kyra as she traipses across the kingdom to find the princess, and in the process we learn the back history behind their friendship, Kyra's love of potions (and why she chose it over her magic), and the perception of magic in the kingdom (no wonder she prefers potions).  Zinn breadcrumbs much of the story, we're left in the dark on a lot of things at first, and we have to be patient to find out what's really going on; at least we don't get annoying infodumps. There are some plot holes and inconsistencies, the forest Kyra moves through is typical fantasy setting, and the magic isn't groundbreaking–but the quick pacing allows readers to gloss over those problems, which I suspect the target audience won't notice anyway.
The best part was that Zinn didn't take the story (mostly) in a predictable direction, and I was pleasantly surprised with how the story resolved itself. If your Middle Grade girls enjoyed books like ELLA ENCHANTED (Amazon), then POISON is another fun book to read.
Recommended Age:

10+ (mostly for girls I'm guessing)

Language:

None

Violence:

A couple of scenes but they lack detail

Sex:

A kiss and some teenage crushing