Review: Turn Down the Lights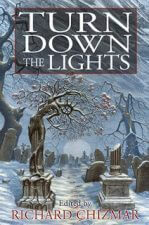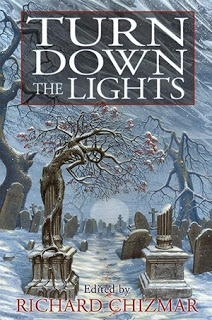 Amazon
Lately I've been trying to pay more attention to the specialty publishers out there. They put out such quality work, that I've decided to make a concerted effort to tell all you readers about them. This time around, let's talk about Cemetery Dance, and one of their newest collections of short stories, TURN DOWN THE LIGHTS (Amazon).
This anthology, edited by Richard Chizmar, is a celebration of Cemetery Dance. It's been 25 years since Cemetery Dance put out their first issue, and so this collections contains stories by just some of the people who have helped it become the amazing specialty publishing house that it is today. Here's the Table of Contents:

"Turn Down the Lights…" an introduction by Richard Chizmar
"Summer Thunder" by Stephen King
"Incarnadine" by Norman Partridge
"The Western Dead" by Jack Ketchum
"An Instant Eternity" by Brian James Freeman
"In the Room" by Bentley Little
"Flying Solo" by Ed Gorman
"The Outhouse" by Ronald Kelly
"Lookie Loo" by Steve Rasnic Tem
"Dollie" by Clive Barker
"The Collected Short Stories of Freddie Prothero" by Peter Straub
Afterword by Thomas F. Monteleone
The introduction, by Chizmar, really highlights how special this anthology–and indeed this entire 25 year journey–is been to him. It's deeply personal, and it really set the stage for the stories that came later. As usual, it's a bit tough to get into specifics when talking about short stories. So I'll briefly highlight the ones that stood out to me.
"Summer Thunder", to me, shows why Stephen King is best when doing short fiction (at least in my opinion). It's a story that follows some of the survivors after an apocalypse. But these are the usual scum that Kings usually tend to write about. These are just normal guys, and it lent a very believable vibe to the story.
"The Western Dead", by Jack Ketchum, is predictably a story about the undead in a western setting. Nothing ground-breaking here, but fun nonetheless.
"An Instant Eternity", by Brian James Freeman, turned out to be one of my personal favorites. of the collection. It's about a photographer in a war-torn area. It's Horror without the monsters. It's Horror because of a normal man being put in a horrible situation because of his bravery. Loved it.
"Flying Solo", by Ed Gorman, was my favorite story. It's about two older gentlemen going through cancer treatment that "fix" problems for people. I wish this story had been longer, if for the sole reason of being with these characters a bit more.
An anthology full of short stories published at Cemetery Dance. A high-quality publication regardless of whether you like all the stories within it or not.
"The Outhouse", by Ronald Kelly, was a fun romp of a Horror story. Nothing more, nothing less.
The remaining stories, for me were a mix of good and bad. With short fiction it always comes down to personal preference. There are people out there who will love every story here, or specifically the ones I didn't personally care for. That's the draw of anthologies. My only personal note on the collection was that it didn't seem focused. I tend to like themed anthologies, and that wasn't the case here. Still, it's a minor quibble.
Now, should you buy TURN DOWN THE LIGHTS? If you like Horror, absolutely. It's a bit pricey at $35 for a hardback, but you get what you pay for. It isn't just the stories, it's the book itself. Have you ever held a book published by Cemetery Dance? Their books are always quality. From the covers, to the pages, to the binding… man, it's great. It truly feels like it's a cut above all normal publishers… because it is. Of course, if you have a ton of money to spend, and you love good art, you should check out the $75 edition of this collection. It has a bunch of terrific art in it, and is signed by those artists.
Gotta love Cemetery Dance.
Recommended Age:

17+

Language:

Yup

Violence:

There sure is, but it doesn't really get too graphic

Sex:

There are some typical Horror, shock-value references here. Mostly Clive Barker's story.