Review: Mayhem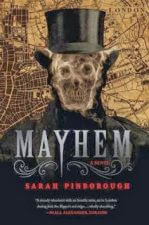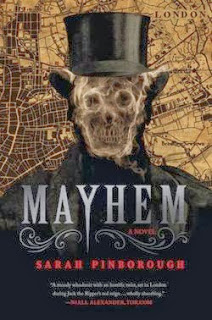 Amazon
I've loved Sarah Pinborough's writing since I first opened the cover on A MATTER OF BLOOD (EBR Review). And since reading Robert McCammon and Jasper Kent, I've been rather obsessed with Historical Horror. So when I received a copy of Sarah's newest Historical Horror novel… well, I'd died and gone to heaven.

MAYHEM (Amazon) takes place in Whitechapel when it was gripped in the panic of the Jack the Ripper murders. But this novel isn't about Jack the Ripper. That would be too obvious. It's definitely there in the backdrop, but MAYHEM is about a different murderer that was terrorizing the streets at the same time. This novel is about a series of unsolved deaths called the Torso Murders.
The main character is Dr. Thomas Bond, a physician/coroner that seems to be able to glean the motives of a killer from his handiwork. It's interesting to see a criminal profiler of sorts in this environment. Dr. Bond also has a growing dependency on drugs. This downward spiral–due to a vicious circle of drug use to cope with the horrors he sees in his job–is handled terrifically and is completely relevant to the plot.
If there is a weakness to MAYHEM, it is the supporting cast. None of them matter a whole lot. They are mostly there to aid Dr. Bond in his discovery of the actual murderer, and I wish they had been more relevant. As it stands, their PoVs just serve to set the stage. Seeing as the novel is fairly short, and fast-paced once you get used to the writing style, the lack of depth to those characters ultimately isn't that important. This is Dr. Bond's journey.
In an era plagued with Jack the Ripper, here's another story that happened at the same time and place. MAYHEM is great horror written really well.
What I love about the story–apart from the main character–is how Pinborough seems to effortlessly show the fear gripping the city and its people. It's also the way Pinborough accomplishes it. You see, most authors writing in a historical setting would just give the reader a dry history lesson to show how much research they did. Boooorrrring. Instead, every character in MAYHEM has fear worming away at their insides. It's never the same in two characters, and it's that attention to detail that showcases that very real fear that must have dominated the lives of every person in that time.
This isn't just straight Historical Fiction. Pinborough brings the supernatural to the party as well. It's light, and I could probably make a case that it's perhaps even all in the characters' minds. I love the layer it adds to the story. Without it, this is just another story. With the supernatural element, it makes the main PoV more admirable in my eyes. And really, this book hinges on whether you are fully on-board with Dr. Bond and all the decisions he makes (or doesn't make).
MAYHEM isn't as strong of a novel as those in her Dog Faced Gods Trilogy (or Forgotten Gods Trilogy as it's called in the USA), but it is still dang good. If you are a fan of Robert McCammon's Matthew Corbett novels, or Jasper Kent's Danilov Quintet, MAYHEM is just the sort of novel you should be reading.
I hope this isn't the last time Sarah Pinborough does Historical Horror, because she is awesome at it.
Recommended Age:

16+

Language:

Kinda weird. There is hardly any, but when it's there it is fairly strong.

Violence:

Well, duh

Sex:

There are some PoVs in the minds of prostitutes, and those are somewhat lurid, but nothing major in this category