Review: Endgame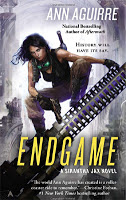 Amazon
After 5 books of mayhem, Ann Aguirre's Sirantha Jax series comes to a close with ENDGAME (Amazon).
Jax finds herself on the La'hong homeworld, fighting for the freedom of the enslaved natives. She's promised her friend Loras that she will do whatever it takes to pay him back for the way she treated him when he depended on her–even if it means sacrificing herself to see the rebellion he's leading to the bitter end.

With her is her friend Vel, the bug-like alien who is akin to a soul mate to Jax; Zeeka, the frog-like alien she has a motherly affection for; March, former enemy turned lover and mind reader; and March's nephew Sasha, a strong telekinetic. It is because of Jax that they're on La'heng fighting a war that's not theirs. But that doesn't mean they won't give it their all. Other friends/enemies show up, as well as remembrances of those who are gone–fans will love the tying up of old and new stories.
Told from Jax's PoV in a present tense, the story itself is narrated quickly with very little downtime. Jax's life is full of excitement, and as the war builds up steam, she finds herself in the thick of things. You are never in question about what she thinks about something or her motivation (it can get repetitious at times). Despite Jax's occasional emo interludes, she can still kick your butt, should the need arise. She's a fun balance of woman and warrior.
At the forefront of her mind are the people she loves, particularly March, who struggles with her platonic but deep relationship with Vel. They spend the book working through their issues, and while at times it's heavy-handed and I was tempted to skip it because it doesn't influence the main plot, it was an interesting exercise watching two very flawed and strong-willed people work through their problems together.
Because of the scope of the novel–it covers years of a war for freedom–there's time and events that are glossed over for the sake of a more tightly plotted novel. While the too-quick pace was necessary, I second guessed the use of this method with the genre of book involved. There were a few plot twists to keep us interested, but they can feel out of place, even when they aren't in the bigger picture of events. Certainly we see plenty of the nitty-gritty of guerrilla warfare and the broken relationships that are its result, but even the ending felt rushed and too tidy.
After 5 books, Ann Aguirre's Sirantha Jax series comes to a close with ENDGAME. A simple novel that would have been better after reading the rest of series
The entire book takes place on La'heng, where humans took advantage of the slave mentality of the La'heng people, who were chemically altered 200 years ago. Jax brings with her a cure, restoring to the people the ability to fight back. It's a simple enough set up. But for me it was the methods of the freedom fighting and the watching it in action that interested me most–as well as watching the people involved change as the result of the war.
Ultimately, I'm sure that reading the final book of a 6-book series without having read the first 5 ruined the impact of the resolution for me. But what I read here wasn't enough to get me excited about going back to read what came before.
Recommended Age:

16+

Language:

Moderate

Violence:

Guerrilla warfare, battle scenes, sometimes bloody

Sex:

Several scenes with mild detail