Review: Nebula Awards Showcase 2013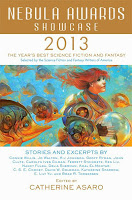 Amazon
The nice thing about award anthologies is that–unlike some of the other short fiction anthologies I've read–all of the selections are well-written. It's quite the variety, so let's get to it (skip straight to the last one if you only want to know the one I liked best). In the order they appear in the NEBULA AWARDS SHOWCASE 2013 (Amazon):

"The Paper Menagerie" by Ken Liu (winner: short story) is about a boy whose mother creates for him origami that comes to life. A touching story of family, magic, and love.
"The Ice Owl" by Carolyn Ives Gilman (novella: nominee) is about a young girl who travels with her itinerant mother. She finds a mentor to help her with her schooling and he entrusts her with a precious gift. Excellent world building for so short a piece, I liked Thorn and her progression through the story as she comes of age.
"Ado" by Connie Willis is a satire with the Bard himself whose works cause trouble in an era where political correctness limits learning. Funny and thoughtful.
"The Migratory Pattern of Dancers" by Katherine Sparrow (novelette: nominee) is a strange story about how birds are extinct, so men have bird DNA injected into them, which compels them to migrate every year as part of a tour of shows. But what happens when a bird-man is too old to fly?
"Peach-Creamed Honey" by Amal El-Mohtar and "The Sea King's Second Bride" by C.S.E. Cooney were both poems and they were ok I guess. I'm not a great judge of poetry.
"The Axiom of Choice" by David W. Goldman (short story: nominee) is a warped choose your own adventure that questions whether you really had a choice after all. It's interesting and I see his point, but it was frustrating to read.
"Club Story" by John Clute is an essay from his The Encyclopedia of Science Fiction: Third Edition. Personally I thought it was uninteresting because I couldn't understand what the heck he was talking about.
"What We Found" by Geoff Ryman (novelette: winner) is set in Africa and is about a young scientist who discovers that the more you talk about a particular scientific truth, it becomes less true over time. It's mainly about his growing up in a dysfunctional household and his affection for his wild brother. It wasn't something that appealed to me personally, but it was interesting and well written.
Another great selection of shorts can be found in the NEBULA AWARDS SHOWCASE 2013. Good writing a ideas across the board. Something to pick up.
AMONG OTHERS by Jo Walton (novel: winner)–the anthology only contains an excerpt, but I wrote a review a while back so you can check that out (EBR review).
"Movement" by Nancy Fulda (short story: nominee) is about a young woman who has a kind of autism of time displacement. Her parents think an operation will cure her, but she doesn't want to be cured because she knows that she won't be able to see the world in the same way if she does. Imaginative and thoughtful.
"Sauerkraut Station" by Ferrett Steinmetz (novelette: nominee) is one of the stories I liked best (after "The Man Who Bridged the Mist"). It's about a girl who lives on a space station with her mother and grandmother. It serves as a way station for space ships, but they find themselves caught in the middle of an interplanetary war. Lizzie meets one of the boys used to keep the peace by serving as a hostage and they become instant friends. I really liked Lizzie's PoV, how even though she's a kid she had depth and interest. The story and setting were particularly interesting.
"The Cartographer Wasps and the Anarchist Bees" by E. Lily Yu (short story: nominee) is told from the PoV of the bugs. The wasps try to take over a beehive because they want slaves, but the bees have other plans. It's amusing, imaginative, and interesting.
"Ray of Light" by Brad R. Torgersen (novelette: nominee) is about the result of aliens (unintentionally?) blocking the sun's rays and leaving the planet cold and lifeless, while humans attempt to live underwater in habitats to survive. The teenage daughter of the main PoV yearns to actually see the sun again, and she and her friends hatch a dangerous plan to do just that. It was a short story that really needed to be more if he wanted to see it reach it's potential, but instead it fell flat.
THE FREEDOM MAZE (excerpt) by Delia Sherman (Andre Norton award for young adult science fiction and fantasy book) is about young girl Sophie who goes back in time to her great-grandparent's Southern plantation only to learn that the 'good old days' are a little hyped up. The premise isn't new, but Sherman's portrayal of life back then is compelling. From what I read I'm curious to find this book and read more.
"The Man Who Bridged the Mist" by Kij Johnson (novella: winner)–Kit is an accomplished architect who is sent to bridge the mist that divides the continent. Told from his PoV we watch as he deals with the locals, plans the building process, and how his actions affect the local ferriers. It's a story with a man who builds bridges as the hero (in itself a nice change of pace) whose work gives him purpose; but when he meets Rasali he finds a woman whose love of what she does truly inspires him. The story was just right–the tone, pace, length, prose. This is my favorite of the selections, so if you read one thing from this anthology this is it.
Recommended Age:

15+

Language:

Very little

Violence:

Varies, but none of them were graphic

Sex:

Referenced, implied
Your link:
Nebula Awards Showcase 2013

—Amazon