Review: The Far West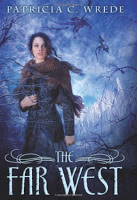 Amazon
I first met Eff Rothmer in THIRTEENTH CHILD (Amazon), where she lives in the frontier border town of Mill City with her family. She's the thirteenth child of a seventh son, and her twin brother Lan is the seventh son of a seventh son, making him a naturally strong magician. Some consider a thirteenth child as unlucky. Stir those expectations around and the result is that poor Eff has trouble learning the magic that comes naturally to her family. But despite her rocky start, Eff discovers that how you use your magic is often more important than how strong your magic is.

In the sequel, ACROSS THE GREAT BARRIER (Amazon), Eff grows into a young woman, whose experiences with magic, working with the animals at the college menagerie, and finding the right mentors all lead her on an unexpected path to an adventure in the Far West.
In the final book of the trilogy, THE FAR WEST (Amazon), Eff's experiences from the first two books prepare her for the dangerous wilderness beyond Mill City and the Great Barrier.
Patricia C. Wrede is no newcomer to fantasy or YA. In her Frontier Magic trilogy she explores a new and exciting world called Columbia (mid-1800s U.S.) where magic is a part of everyday life and as a result the settling of the continent looks much different than what we're familiar with: mammoths still walk the earth, ice dragons must be fought off from the towns by magicians, and many other untold dangers in unsettled territory.
Told from Eff's pragmatic PoV, we watch as she learns about the different kinds of magic in the world, along with her observations of that magic in action. It was enlightening to watch her knowledge of magic build from each book to finally reach a critical understanding by the climax of THE FAR WEST. She stumbles as she learns because her understanding of magic isn't the result of university study like her brother Lan, but she learns by observing and then contemplating. Eff often thinks before she acts, which means she finds solutions to problems that don't occur to others. I liked seeing this different approach in a YA main character, especially considering our current school culture that seems to reward outgoing/extroverted girls. There will be plenty of book-loving YA readers who will relate to Eff.
We also grow to love the people surrounding Eff. Of course Lan plays a big part of it, but there's also her best friend William, her teacher Miss Ochiba, her mentors Wash Morris and Professor Torgeson, and others. Wrede paints a varied and complex cast who move in and out of Eff's life. Eff understands these people and their foibles and loves them as they are. They see in her a reliable, level-headed, intelligent young woman.
In THE FAR WEST, Eff proves her mettle in the Wild West frontier where magic reigns supreme. An enjoyable book written for young adults.
As a result of the setting/plot the pacing can feel slow. But a bigger reason why the pace is slow is because of the PoV character's personality and the growth and learning required from the passage of time–she starts as a young teen in book one and is 22 by book three. So many things have to happen before there can be action  (i.e., the practicality of frontier life, politics, an era of limited technology), and even then the action is infrequent and brief. Do not let this deter you. Fortunately Wrede's prose is succinct in its detail, and every scene has meaning to the greater story as a whole.
If you or your YA readers like Shannon Hale or Mercedes Lackey, don't miss out on Patricia C. Wrede.
Recommended Age:

10+

Language:

None

Violence:

Peril and fighting with wild animals, scientific study of dead animals

Sex:

None