Review: Third Grave Dead Ahead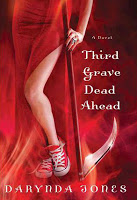 Amazon
Charley Davidson is the grim reaper–but it's not like you think. She's more a portal to heaven than someone who actively reaps souls. But she's still mortal, and a girl's gotta have a day job. Hers is as a private detective in New Mexico, with her dad as a business partner and her best friend Cookie as the receptionist.

The third book of the series, THIRD GRAVE DEAD AHEAD (Amazon), Charley works to solve the mystery of a doctor's missing wife, a man who faked his own murder, and even a few other side jobs. Charley is not above using her otherworldly abilities to give her advantages a regular detective wouldn't have. It doesn't hurt that she can see and communicate with ghosts, or that her Uncle Bob is still a detective with the local police, or that she's made friends with a FBI agent on the missing woman's case.
The real mystery here, however, is how to solve the problem of Reyes–the handsome son of Satan (yes, that Satan) in mortal form. He resents Charley's binding him to his corporeal form, which has the unfortunate result of forcing him to come when she calls, even if it's subconsciously. Right now it always seems to be when she's asleep, so Charley has decided to not sleep again. Ever. Of course.
Charley is a smart-aleck, fast-talking, coffee-chugging woman who doesn't understand why the men in her life can't seem to trust her to take care of herself when she's perfectly capable of doing just that. It can't be all those horrible situations she seems to get into, the ones that almost kill her. They happen to be the natural consequence of her job as a PI, that's all. The secondary characters are a quirky and memorable lot, easy to like, with the villains just as easy to loathe. I liked Charley from the start; but while Reyes is an important character I had a hard time really getting to know him. Alas the pitfalls of first person PoV.
Darynda Jones cannot only tell a great mystery (well… multiple mysteries as Charley goes mad dash through New Mexico towns looking for clues), but she does it through the hilarious narrative of a wise-cracking woman who uses humor to keep herself from getting bogged down by all the horrible things she sees. Seriously, these dialogue sequences can't be for real, but they were so funny I had tears in my eyes from laughing by page 10. Either that or after 10+ hours of flying in one day (with 4 more to go) I had become slightly hysterical–it was exactly the kind of book I needed by that point.
Charley Davidson is the grim reaper, but not like you think. She's more a portal to heaven than someone who actively reaps souls in THIRD GRAVE DEAD AHEAD.
During Charley's travels to talk to people and glean information I got a decent feel for where she lived and worked. Jones adds fun details about the people and places that really make Charley's surroundings come to life. There are other things that weren't so clear, like why is she the grim reaper and how does this 'portal to heaven' thing work? And the solution to unbinding Reyes… duh? But maybe Jones is saving those for the sequel, or else I missed them from the first two books, which I haven't read.
By the end I was fully invested in Charley's story and the people she was trying to help. And I had fun in the process.
Recommended Age:

18+ for sexual content

Language:

Yes

Violence:

Mostly peril with a bloody torture scene and references to sexual abuse

Sex:

The first few chapters are pretty steamy with detailed scenes; the rest is mostly innuendo