Review: Home Improvement: Undead Edition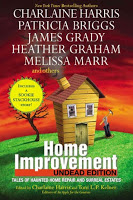 Amazon
The title of the book says it all: HOME IMPROVEMENT: UNDEAD EDITION (Amazon) is an anthology of stories with home improvement themes and the undead. All of them are smart, well-written, and unique. Enjoy!

"If I Had a Hammer" by Charlaine Harris is a Sookie Stackhouse story where Tara and JD have bought their first house. During demolition of a wall they find a hammer with old blood on it and discover they've released a malevolent spirit in the process. It's a fun short in the usual Sookie style.
"Wizard Home Security" by Victor Gischler is about a wizard named Broahm who was recently robbed of the expensive supplies of his trade. Convinced by the excellent salesman from Wizard Home Security that he needs an expensive security system, Broahm still finds himself unprepared for a burglary repeat. While clever, it wasn't my favorite of the bunch.
"Gray" by Patricia Briggs is about vampire Elyna, turned in the 1920s during prohibition Chicago, and has spent the last 90 year biding her time until she can leave her seethe and move back to the condo she once owned with her husband–who now seems to be haunting the place. I love Briggs' novel-length work, and this new character was complicated and interesting.
"Squatters' Rights" by Rochelle Krich is about newlywed Joe and Eve who bought a fixer-upper in expensive LA, unable to afford something better with their modest incomes. But the first night they're there Eve hears scratching in the walls, and the result is a deterioration of her sanity. It weaves in Jewish mythology with a woman's insecurities. Dark and disturbing.
"Blood on the Wall" by Heather Graham is about detective DeFeo Montville who is on the case of gruesome killings blamed on a local Satanic cult. This story goes in twisted directions and ends a little goofy, but is otherwise engaging.
"The Mansion of Imperatives" by James Grady is another dark one about a sentient house trying to find a new caretaker. I'm not really clear on the purpose of the sequence of events, but it was properly terrifying.
"The Strength Inside" by Melissa Marr is about Bori (feral shape-shifters) sisters Chastity and Alison are trying to create a sanctuary for others like them who need to learn to integrate into human society. But in order to make their home a haven, their remodeling plans require the approval of an uptight homeowner's association president. Despite trying to appear human, they aren't above using traditional problem-solving methods.
"Woolsley's Kitchen Nightmare" by E.E. Knight is one of the most original stories of the book, taking Urban Fantasy in an unlikely direction with PoV character the noted chef for the undead, Woolsley. After years of running restaurants, he takes his show on the road as a consultant, and the current job takes him to rural Wisconsin with, of all things, a human owner. Unfortunately said owner doesn't quite get what it means to feed the undead–with disastrous results. At the same time funny and macabre, this short was very entertaining.
"Through This House" by Seanen McGuire (aka Mira Grant) is about changeling (half human/half elf) October Daye's unexpected inheritance of an Elven knowe (aka faerie hill). First she has to figure out how to get inside, then she can deal with the mess left behind. Assuming the house will let her stay. This short is part of a longer series and it feels like it, jumping in with both feet with developed characters and relationships. The solution felt a little obvious, but it was still a decent story.
HOME IMPROVEMENT: UNDEAD EDITION is an anthology of stories with home improvement themes and the undead. All of them are smart, well-written, and unique.
"The Path" by S.J. Rozan is a more sideways take on the anthology's topic, with the ghost of a hermit monk unable to reincarnate in order to protect the Buddha statue and guardians of the cave. The most sedate story of the bunch it was a nice departure from the others with a smooth narration. While interesting, the ending felt contrived.
"Rick the Brave" by Stacia Kane is about down on his luck Rick, who takes a construction job without knowing the details beforehand. Unfortunately it turns out to be dangerous, but somehow the Rick finds a courage he didn't know he had. It was a safely middle-of-the-road kind of story with a few quirks, but otherwise safe UF territory.
"Full-Scale Demolition" by Suzanne McLeod is about Genny, whose business rounds up stray pixies in the London area–they can be destructive when left to roam free. A recently married heiress needs Genny to solve a pixie problem at her house, but neglects to tell her the whole story. I liked the twists, as well as Genny's backup, the kelpie Tavish and their interaction.
"It's All in the Rendering" by Simon R. Green is told with Green's typical tongue-in-cheek style and campy humor. Peter and Jubilee are blissful newlyweds who are in charge of the House, a refuge for human and fae alike in need, for any reason, a haven to get away from what ails them. One day, unexpectedly, inspectors from the human and the elf sides appear to tell them that their caring for the house is substandard, which causes all sorts of panic. The solution is a little flat, but it's still funny enough.
"The Brightest Day" by Toni L.P. Kelner is about Dodie Kilburn. She's a houngan and she raises the dead for a living. Yes, she uses voudou magic to make zombies. When Gottfried dies without finishing his last architectural masterpiece, his associates pay for Dodie to raise him from the dead to finish the job. Things, of course, keep going wrong. I enjoyed this mystery that seems to baffle Dodie, as well as the side-issue of the houngan elders who question her business practices.
Recommended Age:

I'd say 18+ would be most interested in this, although the intrepid teen might like it, but beware of

Language:

Hardly any throughout

Violence:

Some blood and gore, but mostly with 'Woolsely's' and 'Blood on the Wall'.

Sex:

'The Mansion of Imperatives' has a scene, while various others reference only.