Review: The Twelve-Fingered Boy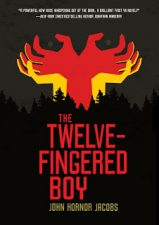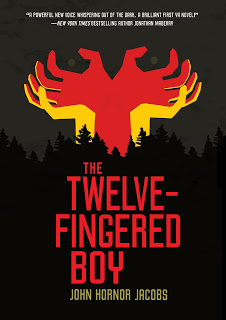 Amazon
I enjoyed John Hornor Jacobs' THIS DARK EARTH (EBR Review) so much that I had to read more of his work. Fortunately Jacobs has two other published books on shelves – the southern gothic, Lovecraftian horror of SOUTHERN GODS (EBR Review), and the YA Horror THE TWELVE-FINGERED BOY (Amazon). I'm eager to start SOUTHERN GODS but I couldn't pass the opportunity to read a Young Adult book about a kid with twelve fingers that has a form of telekinesis.

Shreveport Cannon has lived a hard life, at fifteen years old he's suffered more than his fair share. He's learned to look out for himself, and he's used his street smarts to keep his skin intact during his stint at Casimir Pulaski Juvenile Detention Center for Boys. When Jack Graves is introduced to the eco-system of Casimir Pulaski things get… weird. Jack has twelve fingers and twelve toes, but that's not the strangest thing about him. When he gets mad or feels threatened Jack explodes with telekinetic force. And there are those that seek to acquire Jack and his ability, nasty customers like the menacing Mr. Quincrux.
THE TWELVE-FINGERED BOY is told in the first person by juvenile delinquent Shreveport "Shreve" Cannon. Shreve's voice is highly unique. He's likable with an edged wisdom that bespeaks his difficult lot in life. For a fifteen year old he's had the majority of his naivety burned away by circumstance but what remains is intelligence and a surprising compassion. Shreve quickly takes to Jack, despite his reluctance to being saddled with fresh blood. Looking back I'm surprised at how little is learned about Jack over the course of the novel. He too, is likable, and the relationship that matures between the two boys is convincing.
It's a relationship that grows and changes as the boys grow and change. Half of the book is spent in Casimir Pulaski, as Shreve helps Jack adjust to life in juvenile correction. Things get much more complicated as Shreve learns about Jack's special ability and Mr. Quincrux is introduced to the equation. Mr. Quincrux is a creepy-bad-dude though perhaps a little shallow on the characterization and slightly cliche. He's dark and mysterious with a (seemingly) malevolent agenda, but never develops beyond that. Eventually Shreve and Jack break out of Casimir Pulaski and the rest of the book is spent fleeing Mr. Quincrux.
THE TWELVE-FINGERED BOY is a fast read, packed full of action and humor and a splash of darkness. It's not your average YA novel.
This is where things start to get (even more) interesting, as Shreve and Jack learn to survive and test the limits of their powers. Oh, did I not mention? Shreve ends up acquiring a power of his own due to his involvement with Jack and Quincrux. It's cool to follow Shreve and Jack as they learn how to use their abilities. In a lot of ways THE TWELVE-FINGERED BOY is like the indie flick Chronicle, an origin story of a couple not-quite-superheroes. Shreve's telepathy and Jack's telekinesis can be just as dangerous to the user as to the target. Shreve realizes that his telepathy is invasive and wrong but he uses it to provide and protect. Jack's telekinesis on the other hand requires anger to utilize and holding onto that much anger could prove to be damaging.
THE TWELVE-FINGERED BOY is a fast read, packed full of action and humor and a splash of darkness. It's not an average YA novel. Shreve and Jack aren't average YA protagonists. The plot is an effective mashup of Louis Sachar's HOLES (Amazon) and Chronicle. The ending suggests more novels to come, a prospect that I find greatly exciting. I'd love to see how Shreve and Jack progress from here and I need to know what is in Maryland!
Recommended Age:

14+

Language:

A few words here and there

Violence:

There's some graphic comic style violence

Sex:

None