Review: I Travel By Night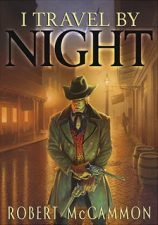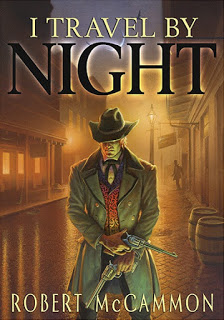 Amazon
If you don't know by now, let me be clear: I love Subterranean Press. Simply put, the quality of the books they put out are nothing short of amazing. From the art to the actual materials used to make the book, the production quality never fails to impress. Additionally, Subterranean Press is the publisher for all of Robert McCammon's novels these days. Every McCammon story I have read thus far has been terrific, and he has easily become one of my favorite authors. So when Subterranean Press announced new novella from McCammon, I begged and pleaded for an ARC of it.

I TRAVEL BY NIGHT (Amazon) is a vampire story. I'm tired of vampires. They don't hold much interest for me these days. I blame it on the over-saturation of the market with the sexy, glittery variety. But if there is one author I trust with the classic Horror monster archetypes, it is Robert McCammon.
The short version is that I TRAVEL BY NIGHT is classic McCammon, and absolutely incredible.
The story begins with an introduction to the character Trevor Lawson. He was given the curse of vampirism on a battlefield during the Civil War, and ever since has been trying to track down the vampire queen that turned him. If he can find her, he may be able to reverse his affliction and become mortal again. Until then, Lawson takes whatever jobs he can to help the less fortunate.
The first thing I noticed was how the beginning of the novel has a rambling cadence to the narrative. It felt like I was lounging comfortably in front of a blazing fireplace while McCammon sat across from me relating the story. That narration style continues until Lawson accepts a job that could potentially put him back on the trail of the vampire that turned him. Then the story is a pure Horror and Adventure thrill-ride.
Since this novella is on the short side, I hesitate to describe the other characters Lawson encounters in I TRAVEL BY NIGHT. You would be better served discovering them without any preconceived impressions acquired from me. I will say that each side character has a brief back-story that, while quick and direct, made me instantly like them. Lawson himself is a sympathetic character that is the classic good-guy holding back the monster within himself. If you have read any of McCammon's other works, you know how effortlessly he writers those types of characters, and Trevor Lawson is no exception.
Very quickly into the story, McCammon shows us how vampires should be. They are monsters, plain and simple. The older they are, the more monstrous they become. This is why I know I can always trust McCammon to write any kind of monster. He just gets it.
The best part of I TRAVEL BY NIGHT, for me, was the ending. This is Horror, and as such should have some hopelessness to end the story. There is a small measure of success, but it is mixed with an equal share of failure and worry for the future. The instant I finished the novel, I immediately contacted McCammon begging for more.
I TRAVEL BY NIGHT showcases McCammon's skill at bringing Historical Horror to life. It's an effortless read crafted with an expert storyteller's touch
I TRAVEL BY NIGHT is short. For some, too short. It is the type of story that you will want to read in one sitting. So the question is, should you spend Hardcover money on a story that spans 150 pages? I did. In fact, I bought a regular Hardcover of the novel than also purchased a signed and numbered edition as well. Why? Because I loved I TRAVEL BY NIGHT. Because I hope that if we all support this novella, McCammon will either turn this into a huge novel or write more novellas featuring the vampire Trevor Lawson.
I TRAVEL BY NIGHT showcases Robert McCammon's skill at bringing Historical Horror to life. It is an effortless read crafted with an expert storyteller's touch. If you are a fan of McCammon's work specifically, or just a fan of Horror, you should buy a copy of I TRAVEL BY NIGHT.
Recommended Age:

16+

Language:

You know, I don't recall any. I'm sure there was some, because there always is in McCammon's work. We'll say it is on the same level as his Matthew Corbett series.

Violence:

It's a vampire hunting vampires. Though the length of the story somewhat prohibits the number of violent scenes that could be included, it still gets pretty awesomely bloody.

Sex:

None
I personally advocate buying directly from Subterranean Press as their shipping methods are some of the best anywhere, and I just think they are a group of awesome people.
I TRAVEL BY NIGHT: Subterranean Press
Also, now is a great time to get McCammon's latest Matthew Corbett novel, THE PROVIDENCE RIDER. It is absolutely terrific, and an amazing price: (Amazon) (Subterranean Press)