Review: Michael Vey: The Prisoner of Cell 25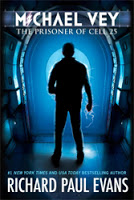 Amazon
Michael Vey is not your average teenager. Ever since he was a kid, he could produce an electric shock. Kind of like a walking Taser. Only with hormones and acne.
His mom is paranoid about what would happen if people found out about his abilities. She gave up a good job at a California law firm to move them both to Idaho in order to keep him safe from anyone who might notice. But in high school Michael is noticed for other reasons: he's kinda scrawny, his best friend is the brainiac nerd at school, and he has Tourettes (the kind with tics when he's nervous, not the swearing kind). So of course the poor kid is bullied.

And this is where the story opens. The bullies have pushed Michael beyond his limit and he shocks them. The only problem is there's a witness: Taylor the cheerleader. After witnessing Michael using his talent, to his amazement she takes a sudden interest in him. When Ostin does some creative research about what happened when Michael was born, they suddenly discover that other, scarier people have an interest in him, as well.
Richard Paul Evans' writing is fairly straightforward and moves at a steady clip. MICHAEL VEY (Amazon) is definitely a departure from Evan's more sentimental stories, like THE CHRISTMAS BOX (Amazon), but like his other work the plot is predictable. The dialogue is frequently tedious (how many times do you have to include "Hello" and "Goodbye" and "How's it going?") and Evans tends toward the sappy/corny.
EBR read it and can't see what the fuss is all about MICHAEL VEY: PRISONER OF CELL 25. Straight-forward story with a wishy-washy villain.
The villains–even the principal, who has some pretty odd dialogue–are stock characters without much meat to them beyond being an evil for Michael to overcome. Even the secondary child characters had more depth than the bad guys did. Michael himself is likable enough as the PoV character, with his goofy friend Ostin a convenient side-kick, and the beautiful Taylor as the potential romantic interest. Pretty standard fare.
Where the book redeems itself are the themes of friendship and doing what's right even when it's hard. The squeaky-clean style and the moral problems MICHAEL VEY addresses is what will appeal to parents; the kids will like seeing Michael save the day, not to mention the idea of kids with superpowers. My teenage daughter liked it and is eager to read the second, but I'm not a fan of Evans' writing style.
Recommended Age:

10+ (some scary scenes may bother more sensitive children)

Language:

None

Violence:

Kidnapping, torture, and even an on-scene murder (without detail)

Sex:

None, it's mostly teenage crushes without being crass