Review: Ruins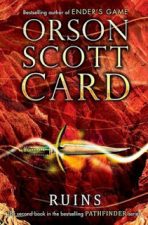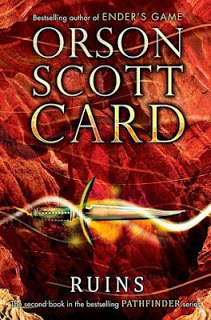 Amazon
PATHFINDER (EBR Review), the first book in Orson Scott Card's Pathfinder series–of which RUINS (Amazon) is the second book–kind of blew me away. I am a big fan of Card's older work. ENDER'S GAME (Amazon) is a classic. I loved the rest of the Ender series, (the Shadow series not so much) and I loved both WYRMS (Amazon) and TREASON (Amazon). But I have had a hard time getting into his work lately. This series however feels like a bit of that Old Card coming through.
The plot, for those of you who haven't gotten on board, follows Rigg a boy who can see paths, the paths that humans have traveled in and how recently. To some extent it lets him see the past, who went where and when they did it. I'm gonna get all spoilery of the first book in a second so if you want you can just jump down to the bottom of the review where I will tell you if this is a good book or not (hint: it is).

The first book, PATHFINDER, ends with Rigg having found his sister, who can manipulate time as well, though in different ways, and together with her, his friend Umbo and two ex-soldiers Loaf and Olivenko have crossed the barrier between their land and the land bordering it. RUINS deals with Rigg and his pals exploring some of the other lands that make up the planet Garden. The scope of the series is almost immediately widened and a bigger view of where the series is going as a whole is brought to the forefront. I thought maybe Card would spend this book dealing with just the one one new place and the problems that the new Wallfold faces, but I was wrong. Card wastes no time moving from one place to the next, and indeed even one time to the next. It was difficult at times seeing the characters go back and forth in time. The group would travel forward and backward in time to see certain events or bypass various obstacles. There was a lot of it and at times I wasn't sure WHEN the book was happening. It didn't matter. The story unfolded pretty smoothly and was a fun quick read.
During the book as Rigg and his friends go from land to land (called Wallfolds in the book), the group would discover something new, something that those particular inhabitants had spent the last ten thousand years cultivating and exploring. As I was reading I had an uneasy sense that I'd read that before. Card is plagiarizing someone else's idea I thought. Then I realized where I had read the idea before. It was in a previous Orson Scott Card book called TREASON (an excellent book, one of my favorites of Card's writing). The idea is still cool here and going from place to place to see what each different set of people had created or discovered was one of the joys of the book.
RUINS is a fun read. It's not as action packed as OSC's other stuff, but still worth the time spent reading. A YA novel with some heart.
That being said, I think I enjoyed the idea a bit more in TREASON. The book was shorter, more action packed and to the point. That's not to say that RUINS wasn't a lot of fun (it was). Just that particular idea seemed better used in that shorter work.
RUINS is still a lot of fun. At a time where I had almost given up on Card's work he comes out with this Pathfinder series to remind us all of why we liked him in the first place. This series isn't destined to be another ENDER'S GAME. But then what is? RUINS is still fun and worth your while.
Recommended Age:

13+

Language:

Not really

Violence:

Nothing I recall was too bad

Sex:

Maybe mentioned but nothing to get upset about