Review: Endurance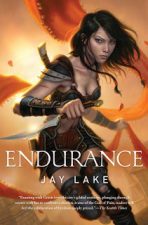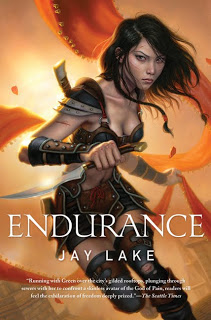 Amazon
I like being proven wrong. Well, let my qualify that statement, because I hate being told that I'm wrong.  I do, however, enjoy being surprised by finding out for myself that something is not the way that I thought it was. After reading several short stories and a novel by Mr. Lake, I'd pretty much written him off as someone that I wouldn't enjoy reading any more of.  So having this book land in my pile was an interesting experience to say the least.  As with my most recent foray into Science Fiction, I of course felt obligated to read the first book in the series before I read this one.
ENDURANCE (Amazon) is the second book in the "Green Universe" authored by the prolific Jay Lake.  I had previously read the first book in his "Mainspring Universe", MAINSPRING (Amazon), and was less than enthused by what I found.  In essence, great writing, interesting characters, a decent–if slightly wandering–plot, with a horrible lack of an ending.  It is a tribute to Mr. Lake's prose and storytelling ability that he made me forget about that final point when I dove into GREEN (Amazon) and subsequently with ENDURANCE.

The main character of both novels is Green.  Her tale begins as she is sold at a very young age by her father to a foreign man from far across the sea.  She knows neither why her father has sold her, nor where she is bound–only that she doesn't want to leave her home, her family, or her Ox, Endurance.
Catch that reference?  Uh huh.  So did I.  Don't worry about it too much though, as it didn't make very much difference.
GREEN covers the tale of her life as she grows from youth to young woman within the confines of the Pomegranate Court where she is being groomed to be a trophy wife for the nobility of the cities of the Stone Coast.  The abusive teaching methods of her instructors, and her secondary, more lethal Pardine (cat-woman) instructor, mold Green into a woman that is both proper and deadly.  A wicked combination that some would like to exploit.  I loved the book right up until the end, when it took a serious turn into left field.  On Amazon, I found a wide array of reviews all across the board.  After thinking about it for a while, I came to the conclusion that the book was amazing, but lacked any kind of foreshadowing to support the ending.  I didn't necessarily hate what happened.  It was seriously just unexpected.  Despite the title of the second book.
Engaging characters, great storyline...but ENDURANCE bombs the end. Again. That's kind of frustrating, you know? Maybe try his science fiction.
ENDURANCE picks up pretty quickly from the end of GREEN, and deals with several of the political entities that Green interacted with in the first book as they converge upon her at the same time for reasons unknown.  Where GREEN was very intimately structured around Green and her life and growth, ENDURANCE becomes very wrapped up in how all these other various parties influence her choices.  She also has to deal with the consequences of several of the choices she made in the previous story.  One of those choices, has to do with her Ox, Endurance.
This was perhaps one of the facets of the story that I most enjoyed.  Seeing direct consequence to Green's ignorant and/or poor choices impact her life in this book solidified her character for me. Lake does a really good job with Green's character and the way that she interacts with the world around her.  It's so easy to get caught up in this story, and indeed that happened very easily for me.
It wasn't until I finished the book and stepped back that I got annoyed.  Because after all this story, do you want to guess what happened at the end?  Yup.  Big fat orange right over the first baseman's head. Another big "boo" from left field.  I was seriously annoyed. Again? Really? Argh! How am I supposed to like a book that doesn't have a decent ending? If the whole book is bogus, okay, fine. I'm not expecting anything amazing. But good book + a wth ending? How am I supposed to respond to that?  Reminded me of the frustration I had at the ending of PERDIDO STREET STATION by Miéville.  Then again, maybe I'm just jaded.  Fool me once, and all that jazz.
Reading these books has given me one thing though: a realization that Mr. Lake is getting better.  I mean, he moved from the total lack of any ending at all to an ending that I completely didn't expect or understand.  The sad thing is that he has everything else that a great fantasy novelist needs!  So many ideas and skills to weave these tales that readers like me love to read.  If you can enjoy a book with a poor ending, seriously pick this one up.  If you're more of a reader like me, I'd give the guy another few passes or so.  He'll get it eventually.  Well, hopefully.  I really hope he does because this guy could be one of the greats.
Recommended Age:

14+

Language:

Very little, but pretty strong at times

Violence:

Physical violence, but relatively little blood or gore

Sex:

A few references