Review: Touchstone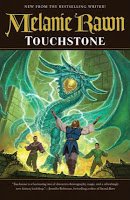 Amazon
The people who claim Gallantrybanks as their capitol don't have American Idol. They don't have rock stars. Sure there are the rich and famous, but the rich are the nobility. The American Idol of Gallantrybanks are the Trials, and their equivalent of famous rock stars are what they call tregadors.
The tregadors are troupes of four men who work together to create plays using magic–and not with simply images, but with smells, sounds, and whatever else is necessary to draw in the audience. If a young man is lucky enough to have the skill and the group, he can become famous and rich.

Enter young wizard Cade, the playwright for a group that lacks the necessary fourth, which is a glisker who takes the magic Cade imbues into vessels and makes the stage come alive. Cade's already got his fettler, Rafe, who keeps the magic from going out of control, and the handsome Jeska, who serves as the masquer and actor for the group. Then they find Meika, elf in appearance as well as in temperament, and the group finally congeals into Touchstone. And they explode onto the scene with their own brand of showmanship.
TOUCHSTONE by Melanie Rawn (Amazon) is essentially the first act in a three act play. There's not much plot, crescendo of action, or a real climax. Sure there's conflict, but it's more the sort of conflict that arises when a group of four very different men work closely and travel together for extended periods.
TOUCHSTONE is thought-provoking and its themes of friendship and the freedom of personal choice is a potentially great foundation to the rest of the series.
Jeska and Rafe are well drawn but are really secondary characters. The relationship that matters here is the one between the uptight, rebellious, self-depreciating Cade and the unruly, flamboyant, mischievous Meika. Their personalities are at odds, and yet they come to depend on each other. Meika's wild personality seems to flame Cade's anger without really trying. Cade's seriousness perplexes Meika. But the complexity of their relationship is much deeper than being just another odd couple. Unfortunately I don't have time to go into it here, but suffice it to say it's how they interact as we switch between their PoVs that moves the story forward.
This means that TOUCHSTONE is slow in its even pacing and even a little boring. Rawn makes up for it in the deeper characterization and the interesting fantasy setting. As far as fantasy settings go, it feels more accessible, a blending of human and elf, and she delivers the details with finesse and subtlety. The population of races of Gallantrybanks and its surrounds have interbred so thoroughly there are no pure humans, elves, trolls, and etc anymore. Depending on the genes one inherits from one's mixed ancestry, a person's magical skills–or lack thereof–aren't necessarily indicative of their appearance. Rawn also takes great delight in finding unused English words to fill the definitions of some of TOUCHSTONE's jargon, and it adds a nice tone to the already smooth prose.
Overall TOUCHSTONE is thought-provoking and its themes of friendship and the freedom of personal choice is a potentially great foundation to the rest of the series. It will be interesting to see where she takes it.
Recommended Age:

15+ although frequent drug use and incessant drinking may concern some parents

Language:

A couple handfuls of strong profanity

Violence:

Fist-i-cuffs only

Sex:

Many references, but they lack detail, and there are no actual scenes
CONTEST:
Would you like the copy of TOUCHSTONE we were sent? Here's the rules:
1) US Residents Only.
2) Send us an email with the subject: Pick me! Pick me for a free copy of Touchstone!
3) In the body of the email, list your name and mailing address.
4) Love us forever.
5) Make sure you are officially following us here on the blog, or over at our Facebook page. Why? Because we said so!
6) We'll pick a winner at random, notify you, and ship you the book via super cheap Media Mail.
7) Contest entries end on the 20th of July 2012.