Review: The Hollow City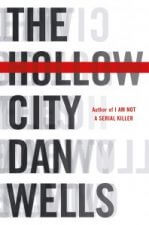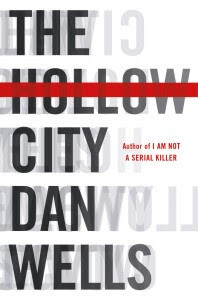 Amazon
Dan Wells has had quite the run. The John Cleaver series — starting with I AM NOT A SERIAL KILLER (EBR Review) — was a fantastic blend of Horror and Fantasy with a YA tone (although it wasn't really marketed as YA in the US). His novel PARTIALS (EBR Review) has been getting some really strong reviews. So I was pretty excited when I got my hands on an ARC of his latest work, THE HOLLOW CITY (Amazon).
I'd heard him describe the basics: a story told from the point of view of a paranoid schizophrenic, Michael Shipman. A man who literally can't tell what's fantasy and what's reality. He's seeing faceless men, and is convinced they're trying to kill him. But no one else can see them, and he hasn't been taking his medication in months. To make things worse, there's been a serial killer at work in the area. Someone's been killing people and essentially destroying their faces, and Michael is a prime suspect.

I've always been a sucker for unique points of view. I enjoy the uncertainty that comes into play when you're faced with an unreliable narrator, and Michael Shipman is as unreliable as it gets. In fact, in a reading I attended, Wells explained that one reason the book has a prologue (not in first person, where the police find the latest victim) is that there needed to be something to give readers at least an idea of what was real and what wasn't before it transitioned over to Shipman's point of view.
The result is a delicious blend of paranoia, mystery, and action. This is like a book version of A Beautiful Mind, minus all the mathematics and relationship issues. If that sounds like something that's up your alley, then you shouldn't miss this. For most of the book, I was left wondering who was real and who was imaginary. Wells did a fantastic job keeping the mystery up.
THE HOLLOW CITY is told from the point of view of a paranoid schizophrenic who can't tell fantasy from reality. It's as awesome as it sounds.
This is One of Those Books–meaning, a book where the less you know about the plot and the characters, the better. So I won't go around spoiling anything for you in this review. Then again, a book like this falls apart if the ending fizzles. I'm happy to report that Wells kept it up all the way to the finish line. The ending was satisfying and–more importantly–managed to make sense of the chaos in earlier parts of the novel.
I also wanted to applaud Wells for handling schizophrenia as something more serious than a joke. He's clearly done a lot of research for this novel, and he took great pains to make sure that Michael was presented as realistically as possible (considering this is still a horror/fantasy novel).
Overall, it's a great book. A quick read that will keep you guessing and enthralled, right to the end.
Recommended Age:

14+

Language:

Very little, all minor

Violence:

Quite a bit, some in detail. This is a Dan Wells book, after all.

Sex:

None
If you've enjoyed any of Wells' novels, you will love this one.