Review: The Iron Jackal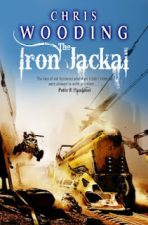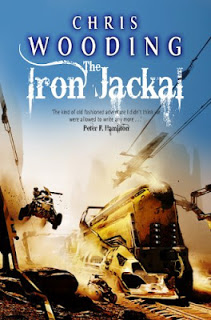 Amazon
I really don't know how Chris Wooding does it. I am insanely jealous. Though, I suppose this is why he is a published author while I am shopping things around. He's just so good at storytelling. So freaking good.
If you have yet to read RETRIBUTION FALLS (EBR Review) or THE BLACK LUNG CAPTAIN (EBR Review), you need to to stop reading this review and go buy those two novels. They are some of the finest adventure novels I have ever read. You can get lost in these novels. Escape. Wooding's Ketty Jay novels are full of magic, machinery, rogues, pirates, love and loss.

THE IRON JACKAL (Amazon) is the third Ketty Jay novel, and in my opinion, the best of the bunch. The story goes like this: The crew of the Ketty Jay is doing well. Everything is roses and smiles. They are famous. They have money. Things are rolling along splendidly. Too splendidly. And then Darian Frey–our loveable Han Solo-ish rogue–and his crew of misfits (cat included) get a job. What it all boils down to is Frey's insatiable curiosity. He is warned not to mess with the item he is stealing…so of course he messes with it. This is Darian Frey. He is now in a fight for his life. Literally.
THE IRON JACKAL has everything in it. Really. Humor? Check it twice. Action? Check it three times. Romance? Check it once. Character development? Check it a bajillion times. If there is one thing to point out about Chris Wooding's skill set, it that he is incredible with character development and backstory. With each book so far we've learned a little more about each member of the crew. In THE IRON JACKAL we end up seeing just how unfulfilled everyone on the Ketty Jay really is. Jez and Crake (and pretty much everyone else) all wonder if they should be moving on from being part of Frey's crew. But really, this is Silo's story. The guy hardly speaks in the first two novels, which makes his character revelations so powerful here.
The other thing I love about Wooding's writing in the THE IRON JACKAL is the accessibility of it. Readers come in all types. Some people want mindless action. Some want deep character development. Some want politics. Romance. Whatever. THE IRON JACKAL, and indeed the prior two novels in the series, has all of these things (and more) in layers. Additionally, the pacing of the novel is just as relentless as the prior volumes. It's all meshed together so perfectly.
THE IRON JACKAL is the third Ketty Jay novel, and in my opinion, is the best of the bunch. Things start out great... and then they take another job.
The one thing I will say that prevented this novel from being perfect was its transitions, specifically during big set-pieces. There were a few scenes I had to read over a few times (including the mega-awesome train-heist and the finale) because the action wasn't completely clear from one moment to the next. I had to do a lot of guessing to fill in some logic-gaps. Nothing major, but it's worth mentioning.
In many ways, THE IRON JACKAL makes things better for the crew of the Ketty Jay by making things worse. By breaking characters down, Wooding makes them stronger. It is in conflict that the characters shine. Some of the scenes where action, humor, and suspense are mixed make for some of the finest adventure scenes I've read in many years. I cannot wait to see where the story goes from here. The ending has some seriously INSANE things starting to happen.
There's simply no excuse to not be reading Wooding's work.
Recommended Age:

16+

Language:

On par with the prior two novels

Violence:

Again, if you've read the prior two novels, you know what to expect here

Sex:

Some crude references, but no explicit scenes