Review: The Inheritance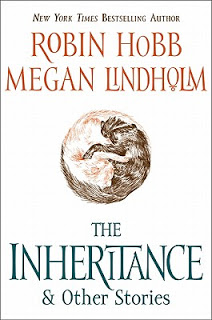 Amazon
THE INHERITANCE & OTHER STORIES (Amazon) by Robin Hobb and her other pen name Megan Lindholm, is a compilation of old and new short works, several of which are set in previous worlds she's built. Whether new to or experienced with Hobb/Lindholm novels (I'm particularly in love with her two Farseer Trilogies), this collection of short stories is worth reading on their own merit. She doesn't fear to tread those difficult subjects that make us squirm or create people we can't help to love… or hate.

"A Touch of Lavender" begins the collection. It's a world where aliens come to Earth. Since it's told from the PoV of Billy, a child, some of the details are a little hazy; but what it lacks in general information, it makes up for in a focused account of his own experience. The majority of the story takes place in his run-down apartment in Seattle, with a neglectful mother who brings home a new guy every other month. Then one day, an alien comes to live with them and Billy's life is turned upside-down. Nominated for a Hugo, this is easily the most provocative story of the collection, and very thought-provoking.
"The Silver Lady and the Fortyish Man" is a quirky tale about a woman who feels stuck in her boring life, but one night while working at the local department store an unusual man comes to buy a scarf. And there sets off a series of their meetings, where first impressions mean nothing, and even the most unassuming people can have exciting lives filled with magic.
"Cut" is a disturbing story from the PoV of a grandmother whose teenage granddaughter lives in an age when laws protect her from parental intervention–even from making a life-altering decision she is too young to understand the significance of.
"The Fifth Squashed Cat" is about Sheila and Cheryl who are on the road to a new job in a new state. Along the way they pick up a hitchhiker who claims that a bone from every fifth squashed cat is "lucky." When they reach the fifth cat, he makes them pull over, and he throws the cat into a pot to boil. Cheryl is fascinated, but Sheila is grossed out and unbelieving. Lindholm says this story is a protest of her pet peeve in fantasy tales that the main character discovers that he or she is the chosen one–and the result is amusing.
"Strays" is about schoolgirl Mandy, who has moved to a rougher part of town with her newly divorced mother. There she meets Lonnie, truant child of a druggie and queen of the strays–stay cats, that is. This is a strangely compelling story, which forecasts a tragic ending, but becomes much more.
"Finis" is told from the PoV of Josh, the handyman in a neighborhood where mostly widows live. He's been doing projects for Mrs. Reid, who appears to be in her early twenties, and makes strange requests like a moat with running water and spigot on the wrong side, and a iron fence with silver running around the top. She says it's for vampires. He thinks she's crazy, but it's her house and her money. Until her brother-in-law arrives to make sure she doesn't get out–only he's in his seventies.
"Drum Machine" is a the weakest of the collection, but still interesting as a story about governmental strictures on conceiving children. The PoV character is a Social Interface that helps applicants decide on one of the government-regulated embryos. An applicant comes in with a special request for free conception, only he knows her as the troubled girlfriend of his old bandmate Cliff. She wants to create a baby with Cliff using the banked sperm he gave to her before his death. Chesterson has mixed feelings about this, and we learn the why.
"Homecoming" is the longest of the collection, but it's engrossing. Set in the Raid Wilds of the Liveship Trader books, it's told in the form of journal entries, and I like how it works. PoV character Lady Carillion, the wife of a disgraced lord of Jamaillia City, and their family is sent as part of a group to colonize the Raid Wilds. Carillion changes from the spoiled wife of wealth to living in squalid conditions in a hostile environment–and rises above it despite deprivation and sacrifice.
"The Inheritance" is another Liveship Trader setting, but this time it's about about Cerise, who inherits a necklace and a ring (empty of its gem) at the death of her grandmother… and nothing else. Orphaned and penniless, she learns of the true inheritance from her grandmother, and sets out to Bingtown to earn her living, and eventually the true inheritance due to her. Despite the infodumps in places, it's a fascinating story about love and betrayal.
Robin Hobb is a master storyteller, even if she claims she's not one for telling shorter fiction in THE INHERITANCE. It's still all great stuff.
The last story "Cat's Meat" hasn't been previously published, but unlike the other two Hobb stories that take place in the same setting, is less about the setting than the situation that Rosemary finds herself in. And it's about the cat, who's pretty cool, and yet also scary. Rosemary has been abandoned by her philandering former boyfriend Pell, who left her pregnant and penniless three years ago. Her son Gilliam's great-grandfather willed the babe a small cottage and land, where Rosemary and son have been eking out a living–until Pell returns to take back what's his. Rosemary must decide whether to run away or fight back; but she's not alone (yep, it's the cat).
Robin Hobb is a master storyteller, even if she claims she's not one for telling shorter fiction. None of these stories ended like I expected. She creates character with depth, and fashions situations that grip her readers.
Recommended Age:

14+ for the more mature themes

Language:

Very little

Violence:

Ranging from a child's violent death to scuffles, although none are particularly gruesome

Sex:

Several references and innuendo