Review: Age of Anansi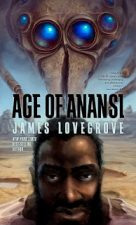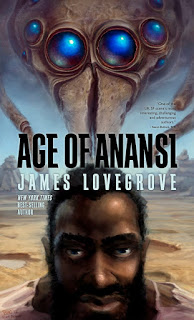 Amazon
Continuing in the tradition of James Lovegrove's exceptional Pantheon series comes the e-novella AGE OF ANANSI (Amazon). This is a story that breaks away from the Military SF nature of the previous novels, though it does remain true to the thematic roots.
Dion Yeboah is a successful criminal defendant, a man with the keen ability to bend the law in his client's favor but never break it. One day, however, the trickster god Anansi pays Dion a visit and offers him a deal he cannot refuse. At Anansi's behest, Dion travels across the Atlantic to participate in a multi-pantheon trickster god free for all in the United States. The competition is stiff and if Dion wants to keep his head he will have to rely on his precision honed wits to overcome the likes of Loki, Set, and even the infamous Coyote.

AGE OF ANANSI is not fast paced, action-saturated thriller like its predecessors. If anything AGE OF ANANSI is a morality tale that really accentuates the brand of modern day mythology Lovegrove has been crafting with his Pantheon series. The driving force behind the story is the interactions of meddling gods and the humans caught up in their schemes, and it seems that none can scheme better than a trickster god.
AGE OF ANANSI isn't the best of the Pantheon series, but it does further the sequence for the better. Short fiction that packs a sizeable punch.
Novellas can be a bit of a double-edged sword. On one hand Lovegrove was able to tell a riskier story that he may not have been able to write otherwise. On the other hand I feel as though the concept is so good that it deserved a full length novel. Dion as a character is established well enough that he makes a suitable protagonist but the greatest facet of the Pantheon series, the relationship between the gods, is underplayed. The tangled web of plot and deception could have really thrived with such a distinctive congregation of gods from separate religions.
Wanting extra of a good thing doesn't necessarily make it a bad thing, so I'm loathe to hold it against AGE OF ANANSI that I desire more. AGE OF ANANSI isn't the best of the Pantheon series but it does further the sequence for the better. Lovegrove's tales of modern mythology are truly one of a kind, and like AGE OF AZTEC (EBR Review), the ending of this story packs a sizable punch.
Recommended Age:

14+

Language:

A few words, but much lighter than normal

Violence:

What little violence there is occurs off screen

Sex:

Hinted at but not described
# 1: Age of Anansi

—

This Review

—Amazon