Elitist Classic: Dragonflight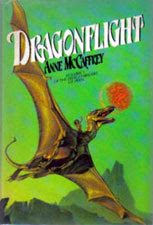 Amazon
Pern is a planet inhabited by human colonists, whose way of life is affected by the deadly Thread that rains down at intervals from a nearby star. The only way to stop the Thread from reaching land and causing destruction is to burn it en route using genetically engineered telepathic dragons with their dragonriders to guide them.

Anne McCaffrey's Pern stories are based on science, the dragons not merely existing as mythological story fodder, but for a purpose. The series deals with themes of colonists wanting a pastoral society verses the technology needed to deal with threats to survival—and as a result switches back and forth between fantasy and science fiction flavors. Dated in spots, but still worth reading.
DRAGONFLIGHT introduced a generation of readers to fantasy beyond its pulpish origins. Science fiction with dragons told in the best way.
It was books like this that started an entire generation of female readers onto the SF path—and if my own tween daughter is any indication, they still do.
DRAGONFLIGHT (Amazon) was published in 1968, parts of which were novellas that originally appeared in Analog magazine the year before. The book is always in print and will be available at even small libraries. The Dragonriders of Pern series covers a thousand years, most taking place after DRAGONFLIGHT, with a few prequels.
Recommended Age:

12+

Language:

Mild

Violence:

Some and not usually graphic

Sex:

Implied
Yeah. There's no way we're going to link all of the book in this series. So, if you're interested in them, hit up the page for the entire series instead (Amazon).
Apparently a movie version will begin filming in 2012. We'll see if this actually sees the light of day.
Also, Michael Whelan painted several of the covers, which are worth taking a closer look at.