Review: The Folded World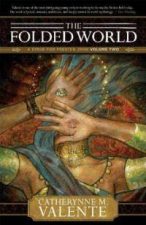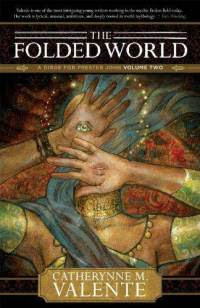 Amazon
I feel kind of like a broken record here. Once again we have another book by the amazing Catherynne M. Valente is out. Once again the book is wonderful. Once again the prose is beyond the capacity for mere mortals to absorb without crying. Once again I am left enraptured at the end of her tales wanting more. How many times can I say that Valente is writing flat out brilliant stuff and you guys should go out (and I mean the DAY a book of hers is released) and buy it? You need me to say it once more? Very well. If you insist. Buy it! Buy it now!

THE FOLDED WORLD (Amazon) is second book in the Dirge for Prestor John series. It picks up where the last book, THE HABITATION OF THE BLESSED (EBR Review), left off. Of course this is Catherynne M. Valente and stories rarely flow in an uninterrupted straight pace. So when I say that this book picks up where the last book left off, it's true and then it's not true. The last book contained three separate stories. The stories were copied from books plucked off of a tree. The books needed to be copied quickly as the book fruit was starting to rot. The stories wove in and out of each other introducing us to characters in various stages of their lives. This book follows in that vein as three more books are plucked from the tree.
We get another tale of Hagia, the blemmye wife of Prester John, this time much earlier in her life as she goes to war. We have the tale of Vyala, a lion charged with raising John's deformed daughter (my favorite character thus far in the series). And we get the tale of another John Mandeville thrust into another part of the kingdom of Pentexore.
Some of the stories take place before the events in Habitation and others take place after. This time the tales focus on war, the effects of it on inhabitants who will live forever, and it's consequences. The book felt more focused here for me than the last one. Both books serve to continue the story of Pentexore, and of John's reign while he is there, but this one in particular had more a focus, and would stand alone better in my opinion.
In THE FOLDED WORLD the world is the big winner here. There are some wonderful characters. It's weird and unsettling and entirely wonderful.
In the end, however, the world is the big winner here. There are some wonderful characters. There are those whom we met previously who are more sketched out in this volume. There are those we meet for the first time here. As usual they are weird and a little unsettling, and entirely wonderful. Yet all of it serves as a backbone to this wonderful place, Pentexore, that the stories are taking place in. As enchanting as the stories are (and they are), it's the world that I go back to visit each time.
I won't say much more about THE FOLDED WORLD beyond that. Anything I write here won't do justice to the tale that Valente is writing. Let it suffice to say that these (THE HABITATION OF THE BLESSED and THE FOLDED WORLD) are great books. These two novels are different, hard to describe, and hard to compare to anything else out there. And they are completely wonderful.
Recommended Age:

16+ not based so much on anything here, but the last volume contained some sex and other things, and I think you should read the books together

Language:

None to my recollection

Violence:

A few scenes here and there. One in particular, but not too gory.

Sex:

Mentioned a few times. Not shown in this book.