Elitist Classic: Le Guin's A Wizard of Earthsea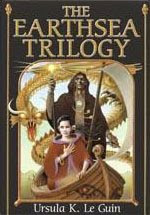 Amazon
Perhaps Ursula K. Le Guin's most recognizable work, her Earthsea stories are categorized as YA—but are definitely worth reading as adults. The first novel, A WIZARD OF EARTHSEA was published in 1968, and revolves around the wizard Ged and the islands and sea of Earthsea itself. It starts off with Ged leaving home to learn magic at a school. Sound familiar? Le Guin is the reason why it does.

Told in an omniscient narrative, it can get a little distant, but the prose is lyrical and lovely, particularly her descriptions of the people and their history, the land and sea, and the way the magic works. The novels are short so it would be easy to read the entire series quickly—each is as good as the last.
The books continue to be in print and will be available at most libraries. Le Guin is best known for tackling societal themes of culture and race with finesse, so it's worth picking up her other works, including her Hugo and Nebula winning THE LEFT HAND OF DARKNESS (Amazon), 1969; while not as accessible as Earthsea, it's worth the effort.
If you haven't read the Le Guin classic A WIAZRD OF EARTHSEA you should remedy that aberration immediately. A classic that shouldn't be missed.
Recommended Age:

11+ to read; could be read to younger children, but there are themes of evil and darkness that may disturb children younger than 8

Language:

None

Violence:

Moderate peril, but it's rarely graphic

Sex:

None